Formula 1: CVC sells part of its stake for £1bn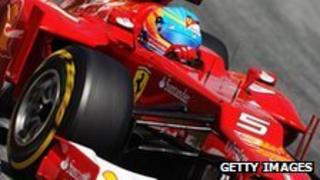 Formula 1's largest shareholder, CVC Capital, has sold a 21% stake in the sport, cutting its holding to 42%.
Three financial groups, BlackRock, Waddell & Reed and Norges Bank Investment Management, reportedly paid about £1bn for the stake.
F1 may float on the Singapore stock exchange next month, and the CVC sale effectively values it at about £5bn.
CVC partner Donald Mackenzie said: "This is great news for Formula 1 and an important step in its development."
He added: "CVC became the controlling shareholder of Formula 1 in 2006. Since that date we have supported the company and its management as they have grown the company with great success.
"The addition of these three highly regarded investors to our share register is validation of this success, and we look forward to working with our new partners over the coming years."
Formula 1's revenues are expected to be about £1.2bn this year, earned from fees paid by circuits to host races, TV income, and corporate hospitality.