Nationwide increases mortgage lending by 44%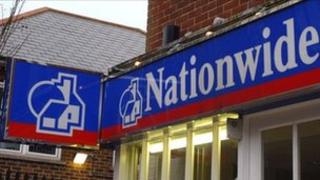 The Nationwide, the UK's largest building society, says it increased mortgage lending sharply last year and is now looking at lending to companies.
Mortgage lending rose 44% to £18.4bn in the year to 4 April, with the number of first-time buyer loans up 9% to 24,000.
Nationwide also said it had set aside £103m to cover potential claims for mis-sold personal protection insurance (PPI), compared with £16m a year ago.
Profits fell from £317m to £203m after a number of one-off costs.
These included £75m for the Financial Services Compensation Scheme and the bank levy, higher than last year's £50m. Other exceptional costs included £61m to cover restructuring measures.
It said its underlying profit for the year was £304m, up 10% from £276m last year.
'Natural extension'
The society said it was planning to begin lending to small and medium-sized businesses (SMEs).
Nationwide's chief executive, Graham Beale, said the move was in response to demand from existing borrowers.
"We're already a lender to the commercial real estate sector, we've been asked by customers to provide them with a corporate lending facility," he said.
"We just feel it's a natural extension of what we can do."
SMEs have complained that, despite moves to boost bank lending, there is a scarcity of available credit.
The government drew up an accord, dubbed Project Merlin, between it and the main High Street banks to encourage them to provide more loans to SMEs.