Sky cleared by Competition Commission in TV film probe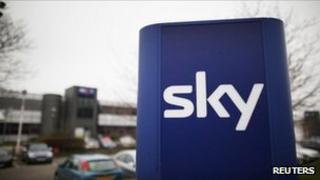 Sky's grip on the pay-TV movie market has been weakened by the arrival of streaming services Netflix and Lovefilm, meaning it is unlikely the regulator will intervene in the sector.
The assessment from the Competition Commission reverses its provisional finding, published in August 2011.
The earlier finding said Sky's control was restricting competition, leading to higher prices and reduced choice.
Sky said it welcomed the commission's revised findings.
"We have long argued that UK consumers are well served by strong competition between a variety of movie providers," a Sky spokesperson said.
"We remain committed to innovating for customers so that we can make Sky Movies even better, building on developments such as Sky Anytime+ and Sky Go. At the same time we're focusing on the launch of Now TV, which will offer consumers even more choice in this vibrant sector."
'Material changes'
In its earlier finding , the commission had said that Sky had an advantage, given its large subscriber base, making it difficult for other broadcasters to bid successfully for rights to air Hollywood studios' new releases on pay-TV.
Sky has agreements with all six of the major Hollywood studios.
At the time, the commission said it was considering whether to restrict the number of Hollywood studios from which Sky may license first subscription pay-TV window (FSPTW) rights.
But the regulator now says that the movie and TV streaming services on offer have changed the picture.
"Competition between providers of movie services on pay-TV has changed materially and, as a result of these changes, consumers now have much greater choice," said Laura Carstensen from the commission.
"Lovefilm and Netflix offer services which are attractive to many consumers and they appear sufficiently well-resourced to be in a position to improve the range and quality of their content further."
Sky is also due later this year to launch its own internet TV service, called Now TV, which will offer films on a pay-as-you-go or contract basis, without the need for a full subscription.
"Given that we no longer find there to be an adverse effect on competition in relation to movies on pay-TV, we are not now proposing any remedial action," Ms Carstensen said.
The commission has requested responses to its revised provisional finding by 13 June, before it issues its final verdict.