Aston Martin returns to Le Mans 24 Hours race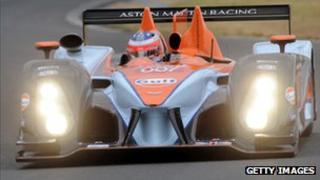 When the annual motorsport marathon known as the Le Mans 24 Hours gets under way in France next weekend, British sportscar maker Aston Martin will be desperate for a strong result.
Almost since the birth of the automobile, car manufacturers have been using motor racing as a means of showing off their latest designs.
Success on the track can put a sporting gloss on a company's products, while competition itself provides opportunities for creating and proving new technologies.
But while racing can bring huge benefits to a brand, things can go badly wrong, as Aston Martin recently discovered.
Last year, it launched a brand new prototype racing car, the AMR-One. The goal was to take victory at Le Mans, one of the most prestigious events in world motorsport.
In part, it was an attempt to revisit past glories. Aston Martin won the race outright in 1959, and half a century later still basks in the afterglow of that victory.
Major blow
In the event, though, it failed dismally.
Both of its cars suffered blown engines within the first two laps. Their Le Mans 24 hours was over in less than 24 minutes. The AMR-One proved to be slow and unreliable, and it never raced in anger again.
It was a humiliating blow for a company that takes pride in its motorsport heritage - and one which had the potential to damage its carefully constructed reputation for finely honed engineering.
In the grandstands, on the internet and in the press, the company faced a wave of criticism and condemnation. Yet one year on, Aston Martin is preparing to race at Le Mans once again, and it is not keeping a low profile either.
Earlier this year it unveiled the car it plans to use, the Aston Martin Vantage GTE, at a champagne reception in London's upmarket Royal Garden Hotel.
There were few signs of concern as the gleaming pale blue and orange machine was presented to the assembled media by Aston Martin's chairman, David Richards.
Although Mr Richards admits the failures last year were painful, he says he does not think there has been any lasting damage.
"You know, that's the appeal of sport, of motorsport," he says.
"If we were winners all the time, people would get bored of us, they'd also see us in the wrong light.
"We're a relatively small company compared with the people we're fighting against, and sometimes that goes against you.
"But I guarantee you when we're back at Le Mans this year, the following and support from all of the crowds, from all the supporters, of all nationalities, will be undiminished for Aston Martin."
'Business-driven decision'
Aston Martin does not go racing alone. For several years, the company has relied on its main sponsor, Gulf Oil, to help fund its racing programme.
The Gulf Racing livery has a special place in motor racing folklore. Its blue and orange colours adorned winners at Le Mans in the 1960s and 1970s, not to mention the car driven by Hollywood great Steve McQueen in the cult 1971 film about the race.
But while Gulf is happy to draw on that heritage, the reasons behind its involvement today are more hard-headed and commercial than romantic.
"It's very much a business-driven decision", says Sam Corke, global brand manager for Gulf Oil International.
"The added coverage and awareness you get from a brand winning obviously helps the brand perception."
'Ups and downs'
But what if the brand is not winning?
After last year's embarrassing failure, did Gulf consider severing its links with Aston Martin?
On that point, Mr Corke is slightly evasive.
"It's always a challenge," he says, "and I think you constantly have to justify the partnership.
"Of course it wasn't ideal last year. But there are always ups and downs in motorsport.
"We have a very good history with Aston Martin."
Peer group rivalry
For the moment, then, the partnership appears secure.
But it is clear that Aston Martin has learned some lessons from its failure last year.
Its new car will not be in the hunt for overall victory at Le Mans. Unlike its predecessor, it is not a prototype, a pure-bred racer.
Instead, it will be racing in a lower category, for Grand Tourers, or GT cars.
These are machines that look like sporty road cars, and in fact are based on them.
It is a cheaper form of racing, and it means that instead of taking on big budget teams from major manufacturers such as Toyota and VW Audi, it will be fighting with smaller niche brands such as Ferrari and Porsche.
These are Aston Martin's direct competitors in the sportscar market, so arguably it makes sense to be competing with them on the track as well.
Mr Richards certainly thinks so.
"We'll be fighting against our peer group", he says
"We'll be competing against all the types of cars our own customers might consider buying, so it makes a great deal of sense."
Racing for pride
Aston Martin has a strong track record in the GT category.
It has already won the class at Le Mans twice, in 2007 and 2008.
After such success, perhaps it is understandable that the company wanted to go a step further, and try to take overall victory.
But after its humiliating failure, the company had little choice but to rein in its ambitions.
And next weekend, it will be racing for pride as much as for prestige.