Egypt's poor turn to age-old help in hard times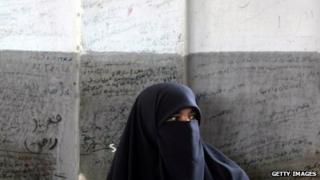 In Boulaq El Dakrour, the largest informal settlement in Giza, Cairo, two widows sit in a cramped room facing each other listening to the tinny sound of prayer recital on the radio.
One begins to cry.
Wafa's husband died from cancer just over a year ago and she has only his pension, equivalent to just under $100 (£64) a month, to provide for her family.
Egypt's desperate economic state in the aftermath of former president Hosni Mubarak's abdication has driven urban inflation above 10% and the unemployment rate to 12.6%, the highest in over a decade.
Problems that were bad before the uprising have become devastating for families living in poverty such as 48-year-old Wafa.
Education and healthcare
With Egypt's historic presidential elections going ahead this week, candidates have been vying for votes by promising more money on social and welfare issues.
Almost all the main presidential candidates said they would raise the budget allocation for education and healthcare by between 15% and 25%, but it is too early to say what will actually happen.
In the meantime, the widows have a plan.
They have resorted to using an age-old Egyptian tradition called the Gameeya, which roughly translates as association, to pay for essentials.
"After my husband died, I stopped being able to pay for our food and drink, even for the gas I get up the street and other simple things," says Wafa, a mother of two, who lives in one of the dwellings illegally built on privately-owned agricultural land in the slum area.
The Gameeya, a popular savings scheme where a group of individuals agrees to meet for a defined period in order to save and borrow together, has become a vital source of income to the women.
Wafa and her neighbour Sumay, 39 years old and also a widow and mother of three, are in a Gameeya where each of the 20 members contributes 200 Egyptian pounds ($33; £21) a month, for 20 months.
Costly medicine
Earlier this year, it was Wafa's turn to get the jackpot; 80,000 Egyptian pounds.
Sumay has cancer and is reliant on the money she gets from this community saving scheme for her chemotherapy treatment.
"I was getting treated in a government hospital, but after the revolution, things changed," she says.
"The medicine is a lot more expensive and hardly available."
Widows such as Wafa and Sumay have turned to Gameeyas following the revolution for help as inflation is pushing up the price of basic foodstuffs and gas.
Lack of trust
For many of the 14 million people who live below the poverty level and who feel the deepest impact of Egypt's dire economic situation, the Gameeya is the only sustainable income option.
Bypassing banks and other official financial institutions, the Gameeya removes the financial pressure of signing a bank loan, and is a guaranteed source of funding for emergency bulk payments and large expenditures.
Many Egyptians are wary of banks and anyway, the majority Muslim population's ban on interest means conventional loans are not a viable alternative for many.
Said Abdel Aziz, 42, a retired government employee who also lives in the Boulaq El Dakrour area, says he would never sign a cheque that he is not able to pay because then he "would find [the bank] come knocking on my door".
"People who take these loans are stuck for life," he says.
Instead, he has used his Gameeya savings to open a small corner shop.
Formalised system
But there is evidence the Gameeya system is making its way into the corporate world, with banks and big financial institutions finding ways to service the massive number of unbanked Egyptians, estimated at about 65% of the population.
UK-based Barclays Bank launched a financial savings scheme modelled on the Gameeya system in 2010, though it added interest to the loans distributed.
Two years later, the project has led to the formation of more than 2,000 savings groups with 27,200 members in Egypt.
The total amount saved in these groups rose more than 50% to 2.24m Egyptian pounds between July and December 2011, even as the revolution tightened its grip on Egypt's economy during the last six months of last year.
Banks have realised that recreating this system inside their institutions could counteract Egyptians' wariness of the banking system, thus help boosting their customer base.
"The aim is that members of these informal financial associations will in the future be able to access a wider range of services offered by formal financial institutions, including Barclays," says Barclays Egypt chairman Omar El Sayeh.
Reliance
Egypt already has a two-decade long history of microfinance services, mostly lending to small and medium-sized businesses.
Opportunity to remedy financial hardship with a Gameeya-style system, post revolution, is ideal, experts say as the emphasis shifts to funding small projects and away from big business.
Mahmoud el Gamal, professor of economics at Rice University, Texas, who has studied informal savings practices in Egypt extensively, believes it is easy for Egypt to copy US and European style structures for mutual savings banks and credit unions.
He compares Egypt to 19th century rural Germany and 20th century rural US, when this type of scheme was rife.
"That was the main reason for the rise of financial mutuals, mutual savings banks, and my favourites: credit unions," he says.
But aside from corporate opportunities, the government's failure to attend to the masses in terms of welfare has left millions relying on the Gameeya as a source of income.
"Definitely, life is harder after the revolution," says Wafa.
"But what can I do but continue in this Gameeya?"