SABMiller reports annual pre-tax profits of $5.6bn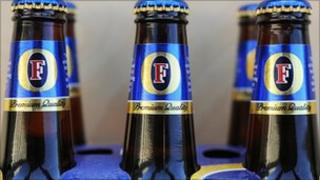 Brewing giant SABMiller has reported strong profits, helped by strong growth in Latin America.
For the year ending 31 March, SABMiller reported a net annual profit of $5.6bn, up 54% on the previous year.
The results include a one-off gain of $1.2bn from the sale of the company's Russian and Ukrainian business.
Lager sales in North America fell 2% last year and were down 1% in Europe. But that was offset by a 9% rise in lager sales in Latin America.
On the subject of European sales, the company said in its annual report: "Beer markets continued to be affected by consumer downtrading and industry focus on economy brands and packs."
SABMiller says raw material costs, including barley, glass and aluminium, will continue to rise this year.
Last year, SABMiller bought Fosters for $10.3bn, a deal which gives it almost half of the Australian beer market.