BMW fined for curbing sales to Swiss nationals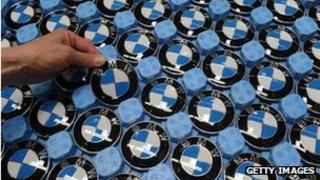 BMW has been hit with a record $163m fine for restricting the sales of its cars to Swiss nationals.
The Swiss competition regulator says BMW has been preventing Swiss nationals from buying cars outside Switzerland.
The Swiss franc has risen about 20% against the euro over the last two years, which is encouraging Swiss customers to shop abroad.
The car maker rejects the charges and says it will appeal against the fine.
BMW says that its business practices have had no impact on competition in Switzerland.
"The Swiss automobile market was not foreclosed by BMW, as proven by the fact that its direct imports to Switzerland are comparable with those of other manufacturers," the company said in a statement.
"The provisions of the BMW and Mini dealer agreements for the EEA [European Economic Area] have not had any impact on competition in Switzerland."
The fine is the biggest so far imposed on a car maker by Swiss competition authorities.