Supermarkets misled on discount pricing, says Which?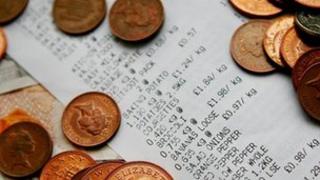 Customers have been misled by supermarkets over discounts and multi-buy offers, according to consumer group Which?.
It analysed more than 700,000 prices and suggested that in some cases "discounts" ran for much longer than the original price.
However, the government has said that it has no plans to alter its "robust" rules on pricing.
It is a criminal offence for traders to give misleading price indications.
"If consumers are misled, traders may face enforcement action from trading standards for breach of the legislation," said a spokesman for the Department for Business.
"The government believes that the existing regulatory framework is robust and has no plans to change it."
The Which? research cited cases including:
Asda doubling the price of a single Muller yoghurt from 30p to 61p as it offered 10 for £4, then put it back to 30p
Tesco selling Beck's beer for 190 days on discount and 70 days at the higher price
Ocado sold strawberries stating that the price "was £4.38, now £2.19/£2.29/£2.25" across a 112-day period, although they were only at the highest price for 13 days beforehand
Rules state that the non-discount price should be the amount a product was sold at for 28 consecutive days immediately prior to it going on offer, while a product should not ordinarily be on offer for longer than it was at the higher price.
But Which? said the rules included a "get-out clause" allowing for individual circumstances.
"At a time when household budgets are squeezed and food bills are going up, many people are on the look out for a bargain," said Which? executive director Richard Lloyd.
"It is unacceptable that shoppers are confused into thinking they are getting a good deal when that might not be the case."
The supermarkets accepted that they had made some mistakes among a huge volume of pricing.
"By and large our systems and procedures ensure those instances are kept to an absolute minimum, but when we do get it wrong we put our hands up to say sorry and put things right as quickly as possible," said a spokesman for Asda.
Tesco said: "We are committed to helping our customers keep their costs down. We change millions of price labels in store and online each week and we sometimes make mistakes, for which we apologise.
"We make every effort to ensure we act in accordance with government guidelines on price promotions."
Ocado said: "Ocado has thousands of special offers and is committed to providing clear and accurate information about our offers. Regrettably on this one isolated occasion this specific promotion did not explain our offer in the required detail.
"Measures have now been put in place to ensure this does not happen again and we continue to heavily monitor our processes accordingly."