Solar feed-in tariff cut delayed by government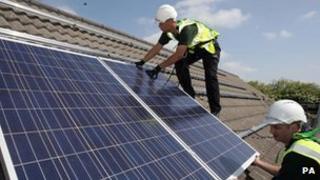 A cut in the subsidies on offer to homeowners who install solar panels to generate electricity has been delayed by the government.
The feed-in tariff will fall to 16 pence per KW hour from 21p on 1 August, not on 1 July as previously announced. It will then fall every three months, depending on market conditions.
Tariffs are being cut to reflect the falling cost of solar panels.
Earlier this year, the tariff was reduced from 43p to 21p.
This cut took place on 1 April, but the government had originally tried to enforce the cut on 12 December last year. However, the High Court ruled the change of date "legally flawed".
The government subsequently failed to overturn the ruling in the Court of Appeal.
'Difficult time'
The government has long maintained that solar tariff subsidies need to be reduced to reflect the lower costs of installing solar panels. It said the 16p rate should give an return on investment of more than 6% for a typical solar installation.
It also increased the amount consumers get for selling electricity back to the national grid - the so-called export tariff - to 4.5p per KW hour from 3.2p.
"Today starts a new and exciting chapter for the solar industry," said Energy and Climate Change Minister Greg Barker.
"The sector has been through a difficult time, adjusting to the reality of sharply falling costs, but the reforms we are introducing today provide a strong, sustainable foundation for growth for the solar sector."
The Solar Trade Association said it "broadly welcomed" many of government's decisions on feed-in tariffs, while some environmental groups also backed the new scheme.
"After a year and a half of crippling uncertainty, the sun is starting to shine again on the solar industry," said Friends of the Earth's executive director Andy Atkins.
"Greg Barker's 2020 vision will allow solar firms to get back on their feet, protect jobs and plan for the future - but to avoid more fiascos any mechanism for setting subsidy payments must be managed independently of Government."
Feed-in tariffs pay consumers for the electricity they generate, both that which they use and that which they sell back to the grid.
The so-called big six energy suppliers - British Gas, EDF, E.On, Npower, Scottish Power and Scottish and Southern - are required by law to pay you for the energy you generate.
The tariffs cover a number of different technologies, including solar panels, wind turbines, anaerobic digestion, combined heat and power and hydroelectricity. The tariff varies depending on the installation cost of the technology.