HSBC shareholders approve bosses' pay at AGM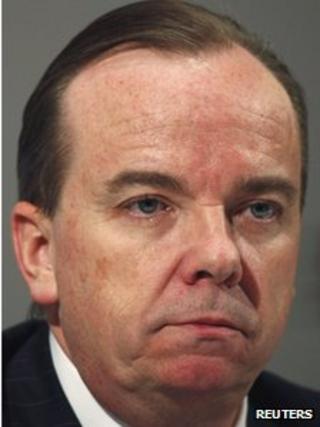 Most HSBC shareholders have approved HSBC bosses' pay awards at the annual general meeting, bucking the recent trend for shareholder revolts.
Just over 10% of shareholder votes were against the proposed pay plan, which includes chief executive Stuart Gulliver's £7.2m package.
Shareholder pressure group Pirc had recommended voting against the bank's remuneration report.
HSBC has performed better than some rivals, but recent profits were down.
Last year's vote from shareholders at the annual general meeting (AGM) saw almost twice as many shareholders vote against the proposed pay awards.
The bank's chairman, Douglas Flint, implied it had to pay high rewards to attract the best people, saying: "We continued to develop a truly meritocratic culture because as international competition for the best talent intensifies, we need to ensure that HSBC is making the most of the skills and abilities of our people and encouraging them to reach their full potential."
Pirc had said that pay was not sufficiently linked to performance: "It is not clear, in the remuneration report, why a bigger emphasis was made on rewarding the chief executive for still being employed after a few years, rather than for leading the bank to outperform."
Last month, rival Barclays saw 27% of its shareholders vote against the pay recommendations.
That was almost three times the number who voted against the year before.
The insurance giant Aviva, bookies William Hill, miner Xstrata, Mirror Group newspapers' owner Trinity Mirror and Premier Foods are among those who have recently faced shareholder anger about pay levels for executives.
There was concern that bosses' pay did not reflect company performance at the firms, many of whom have seen share prices and profits fall.
Recent research carried out for the BBC by Manifest, the investor voting advisory service, found that the typical pay of bosses at the majority of the UK's largest publicly listed companies rose 11% last year to £3.65m.
Advice
But even if the vast majority of shareholders vote down a proposal on executive pay, their decision only counts as a recommendation to the board, and can be ignored.
The Department for Business is consulting on legislation which would mean pay deals require the support of 75% of shareholders.
According to Sarah Wilson, chief executive of Manifest, there were twice the number of dissenting votes this year as last, as dissatisfaction grows in what is being described by some as the "shareholder spring".
HSBC has performed comparatively better for shareholders than rival Barclays; its shares have fallen 26% from the start of last year, while Barclays' share price dropped by 35% over the same time frame.
It is cutting costs, including 30,000 jobs worldwide as it looks to save $3.5bn worth of annual costs. Some 2,000 of those posts will go from its UK operations.