London 2012: Games boost for 'Brand Britain'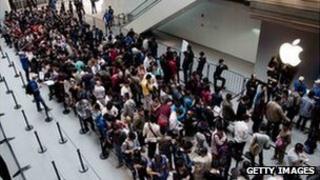 Middle-class consumers in China and India are more likely to visit Britain as a result of publicity surrounding the Olympics, research suggests.
A new survey found 63% of Chinese and 60% of Indian consumers interviewed said they would like to buy more British products.
Three quarters of those surveyed said they wanted to learn more about the UK.
And 80% said they were more likely to want to visit Britain in light of the publicity surrounding the Games.
Although not as emphatic, the survey found increased interest in the UK among respondents from France, Germany and the US - with roughly half those interviewed saying they were more interested in visiting Britain as a result of London 2012.
The survey was part of consumer research by Deloitte, London 2012's official professional services provider, who surveyed 6,000 consumers in China, France, Germany, India, the UK and the US in March.
'Shot in the arm'
Simon Oaten, director in the consumer business industry at Deloitte, said there had always been a strong underlying demand to visit Britain, but that London 2012 was giving the UK a "shot in the arm".
"In the current environment while there's limited growth in Western Europe and North America, there's significant growth in China and India," he told the BBC.
"Given the UK economy's growth prospects, it is important for consumer businesses to develop relationships with overseas customers, particularly from markets such as India and China," he told the BBC.
Chinese tourists spent an estimated £69bn in 2011 - a 25% year-on-year increase - and Mr Oaten said the spending power of China's middle class was set to increase by 5% in the next decade.
"It's difficult to quantify how much of that could be spent in the UK, but retailers and hospitality operators in the UK who understand the shifting global demographics will reap the rewards," said Mr Oaten.
"The Games represent a unique opportunity and a unique point in time of those emerging markets focusing on the UK.
"It's critical that we don't forget that it's an incredibly competitive market."