Japanese chipmaker sees its shares fall to record low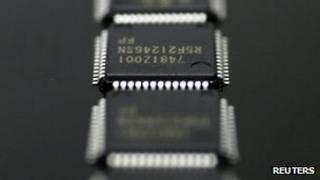 Japanese chipmaker Renesas has seen its shares tumble to a record low amid reports it is planning to raise cash and cut jobs.
According to newspaper and analyst reports, Renesas will try to raise 100bn yen (£828m; $1.3bn), cut more than 10,000 jobs and sell some units.
Renesas makes chips used in cars and is facing increased competition from rivals as well as weaker global demand.
Its shares fell as much as 13% to 238 yen in Tokyo.
Speculation about Renesas has been swirling for a number of weeks, and its shares have lost more than a third in value over the past month.
Renesas is widely expected to unveil a restructuring plan to its major shareholders, Hitachi, Mitsubishi Electric and NEC, later this week.
According to Bloomberg News, the company has already submitted the plan to its lenders and labour unions.
Renesas is not the only global chipmaker to run into difficulties. In February, Japan's Elpida Memory filed for bankruptcy and the firm's shares have since been removed from the Tokyo Stock Exchange.
However, some analysts played down the risks of Renesas's problems escalating to a similar level.
"If it can go through with the restructuring and raise funds, it will not be a repeat of Elpida," said Hideyuki Ishiguro of Okasan Securities.
"Elpida repeated similar efforts over and over again until there was no one else who was willing to give funds."