CBI wants more private investment in infrastructure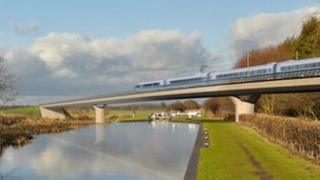 The government should do more to encourage private pension funds to invest in public sector infrastructure projects, according to the CBI.
In a report, the business organisation recommended that the Treasury should enhance the credit rating of government construction schemes.
The CBI said such a move will make pension funds, and other private sector investors, more willing to invest.
It added that it hoped its report would "act as a catalyst".
The CBI wants the government to enhance an infrastructure project's credit rating by "underpinning" its funding. Its report suggests that the Treasury does this by underwriting or guaranteeing around 10% of the total cost of the scheme.
Chancellor George Osborne said in his Autumn Statement that he wanted to get private funds to invest £250bn in infrastructure projects.
The CBI said that six months later, "little had happened on the ground".
'More attractive'
CBI director general John Cridland said: "If we want to see the billions of pounds needed to upgrade our ageing infrastructure and secure jobs and growth for the long-term, the government must make smarter use of limited public finances.
"By underpinning and lifting the credit rating of certain infrastructure assets, it can make them less risky and more attractive to investors.
"If we can capture just a fraction of the £1.5 trillion of capital held in UK pension funds, and invest a further 2% of their total assets in infrastructure, this would make a huge contribution to renewing our energy, transport and other infrastructure."
HS2, the planned new high speed rail link between London and Birmingham, is one such public infrastructure scheme that the CBI would like to see attract investment from pension funds.
Infrastructure 'embarrassment'
The National Association of Pension Founds (NAPF) said it was already looking at ways in which its members could boost investment in infrastructure projects.
Joanne Segars, NAPF chief executive, said: "Britain's infrastructure is becoming an embarrassment and a bottleneck, and it desperately needs a revamp.
"Pension fund money could be a key part of any solution.
"Big construction projects would boost the ailing economy and also offer pension funds the long-term, inflation-linked returns they are hunting for."