Governments should 'put small firms first'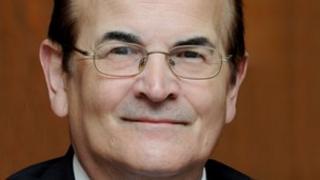 All countries need their small businesses to invest and create jobs, but to do that these firms also need a stable economy.
However, the uncertainty in the global economy that emerged during the credit crunch of 2008 is, unfortunately, still damaging prospects.
The Federation of Small Businesses' quarterly Voice of Small Business index showed that business confidence was at an all-time low in the last quarter of 2011.
The first quarter of this year showed some improvement, but confidence is still a rare commodity.
Yet, small-business owners are a hardy and optimistic breed, so it's no surprise that more than 40% of firms tell us they want to grow in the coming year.
'Lowering barriers'
Much as businesses owners - like their customers - would like lower bills and cheaper petrol, there are other things the government could do to improve the prospects for small businesses.
Our members tell us their businesses are affected by the same types of problems - too much regulation, limited access to finance which restricts how and when they can grow, and increasing overheads which put a strain on cash flow.
Employment legislation is a particular problem for small firms. Our research in 2009 found that 61% of members found it difficult to keep up to date with the number of different regulations and requirements when it came to employment law.
It's not just employment law though - most regulation acts as a barrier for small firms.
There is a lot for a new small business to get to grips with and more and more of it is coming from the EU.
The UK government says it wants to reduce the amount of new regulation coming in and also the stock of regulation on the statute books.
This is a welcome move as long as it has a tangible impact on the day-to-day running of a business.
However, unless the EU follows suit, the efforts of the UK government will be wasted.
'Small first'
We want to see a greater recognition of the role micro and small businesses will play in driving the economic recovery.
All policymakers, both in the UK and abroad, need to commit to helping small businesses by "thinking small first".
The FSB has long campaigned for policymakers to examine whether micro firms need to comply with a proposed law, or whether lighter regimes and exemptions are possible.
Despite the EU commission accepting this, it still plans to bring forward unnecessary bureaucracy and burdensome proposals.
So it is up to the UK government to play its role in highlighting and stopping this.
It should work with other countries supportive of "smart regulation", such as Denmark, Sweden and the Netherlands, to tackle this.
Export drive
In the UK, we have called for a Small Business Administration (SBA) to be formed to house all small business policymaking. Similar to the 60-year old SBA in the US, it would have a cabinet level minister placing small businesses at the heart of Whitehall.
This would really help reduce the burdens placed on small firms and would mean there is a department to champion their needs and monitor the barrage of regulation that is created across all government departments.
Getting the right advice at the start of a business's life is crucial for its long-term survival.
And so the SBA could help to provide business mentoring and training, but more importantly it would be a one-stop-shop for all business advice.
It could also help government to deliver on its key priorities - boosting exports and getting more small firms to supply the public sector.
One in four European small firms export goods or services, and our research has shown that there is much untapped potential among UK small businesses to do more. It suggests the UK needs more than 250,000 more small firms to export to reach EU levels.
So we want to see an awareness campaign to highlight the support that is available for firms that want to export as well as tailor-made information for small and micro firms.
Job creation
In the US, the government provides expert exporting guidance and finance through its SBA.
If the UK were to take a similar approach to the US then a division of the SBA could promote exports, facilitating access to capital and ensuring the interests of small firms are reflected in trade negotiations.
The government really can help small firms with running their business - just by letting them get on and do it.
Businesses want to grow and invest to create jobs, which in turn will boost tax receipts and revenue for the Exchequer, all good for economic recovery. But they need a stable environment in which to do that and someone to stand up for them.
Most importantly, just by thinking small first, governments across the world can be sure that their biggest employers and wealth creators will be putting their economies back on the right track.