Lotus in limbo after chief executive Dany Bahar's suspension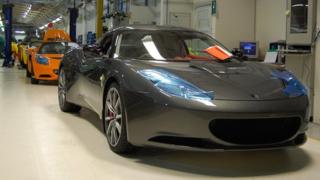 Signs of prosperity and progress are everywhere at the Lotus headquarters in Hethel.
The sportscar maker's test track has just been spruced up, ready to receive a string of new models scheduled by chief executive Dany Bahar to be launched over the next few years.
In the factory alongside the track, workers who are used to building an array of Smarties-coloured cars by hand are preparing to make the transition to a partially automated production line.
An extension of the carmaker's factory is being erected to make room for production to double to about 6,000 per year by 2015, creating some 1,000 jobs in the process.
However, the initial impression of healthy growth is deceptive, belying the chaos behind the scene.
Persistent fears
The sportscar maker and engineering group's difficulties came to a head over the weekend, with the shock announcement that Mr Bahar had been suspended pending the outcome of a two-week investigation into "his conduct".
As yet, no one has said why the former Ferrari and Red Bull executive has been forced to step aside, nor indeed has it been made clear whether or not he is expected to return.
But the plight of the group's chief is perhaps not at the forefront of the minds of Lotus' 1,200-strong workforce, who worry a great deal more about the conduct of DRB-Hicom Berhad.
Ever since January, when the Malaysian holding company acquired a controlling stake in Lotus' parent company Proton, repeated assurances have failed to alleviate their concerns.
The persistent worry is that DRB-Hicom might see the consistently loss-making UK subsidiary as a non-core Proton asset that could simply be hived off.
Many here have been jolted by waves of rumours that DRB-Hicom is considering a string of options that could include anything from filing for administration, to shifting production out of the UK, to an outright sale.
The uncertainty has been broadly dismissed by DRB-Hicom, yet the government has responded by putting plans for £10.4m of funding on hold until a clearer picture emerges.
Concerned Malaysian financiers, which have lent some £270m to Lotus in exchange for guarantees from Proton, have also responded by imposing restrictions, according to press reports there .
Credible rival?
In Hethel, the workers' concerns are matched only by their pride in the cars they produce; cars such as the supercharged Exige S, the fastest accelerating production car yet to leave the factory.
The Exige S could be seen as a potent symbol of all that is right, as well as of all that is wrong, with Lotus.
Taking it for a spin on the track, the car's pedigree becomes evident. It is an outstanding specimen of Lotus engineering, delivering performance that has earned it favourable comparisons with the almost twice-as-expensive Porsche GT3.
Out on the open road, meanwhile, the Exige S comes across as extraordinarily well kitted-out, at least by Lotus standards, coming as it does complete with airbags, orthopaedic seats and a switch that activates the touring mode.
There are even patches of superfluous suede leather in the centre of the doors.
But compare it to the considerably more expensive and sophisticated rivals that have long been on Mr Bahar's radar, and the Exige S comes across as terribly crude.
And as such, it does little to vindicate Mr Bahar's ambitious vision of transforming Lotus from a niche player into an upmarket sportscar company.
Committed workforce
On the factory floor, production continues uninterrupted in spite of the turbulent rumour mill.
Skilled workers are painstakingly bonding together lightweight glass fibre panels, making complete car bodies that are bolted onto lightweight aluminium and composite chassis.
The company's owners, meanwhile, have been eager to mollify all those concerned.
DRB-Hicom has put four of its own people in charge of the day-to-day business, and Proton's executive chairman Sri Haji Muhammad Khamil Jamil has reiterated that Lotus is not being sold "despite recent media reports based purely on speculation and rumours".
"Lotus is an iconic brand with global presence and positioning, coupled with unsurpassed engineering expertise and a talented workforce," he says.
Not much more can be said until the outcome of the operations and legal audit has been concluded and Mr Bahar's future has been determined.
But whatever its owners and executives end up doing, there is no doubting the commitment of its staff, according to John Vigar, manager in charge of continuous improvement, development and training.
"They are, I think, the cream of the workforce in Norfolk," he says.
"If you cut the wrist of a Lotus employee, you get yellow and green blood."