UK retail sales see big rise, says CBI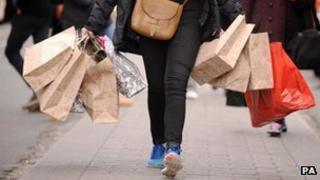 Retail sales rose strongly in May compared with a year earlier, the CBI business organisation has said.
Its latest survey of the distributive trades showed a positive balance of 21% of retailers reporting an increase in sales from 12 months before.
However, the CBI said that retail sales were still below average levels for the time of year.
It added that the weakness in the rest of the UK economy meant that retailers would remain under pressure.
Judith McKenna, chair of the CBI Distributive Trades Panel and chief operating officer at Asda, said: "It's encouraging to see High Street sales up compared to a year ago, and that business sentiment about the next three months has improved.
"However, sales are still below the average for the time of year, and the combination of high unemployment, slow wage growth and weak consumer confidence means that the retail sector is likely to remain under pressure in the short term."
The latest report from the CBI comes after official figures from the Office for National Statistics (ONS) showed that retail sales volumes fell by 2.3% in April compared with March, largely due to a record decline in petrol and diesel sales.
Sales of fuel in April were down by 13.2%, said the ONS. This came after motorists had panic-bought in March ahead of a threatened strike by tanker drivers. Excluding fuel, April's retail sales were 1% lower.