Why talking-to-text has taken off in China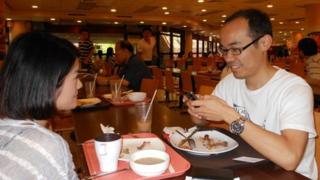 Anyone who has ever written in Chinese on a computer, or composed a text message on their phone in that language, knows the typing process is not nearly as simple as in English.
In most languages using a Roman alphabet, you directly type the letters that make up a word.
But in Chinese, you type in the Roman letters that approximate the sound of a particular ideogram. Then, depending on the software used, a list of possible ideograms pops up, and the user chooses the correct one.
Typing in Chinese is much easier than writing each character by hand, as you only have to recognise the ideogram, instead of the entire character, but it is still relatively time-consuming.
Touch screen typing on devices like high-end smartphones and tablet computers seems to create even more headaches.
That is a large part of the reason why voice messaging is particularly popular among Chinese-language users.
During a recent lunch hour at the University of Hong Kong, many students are chatting away on their smartphones, often holding their phones close to listen to or record messages.
Li Qiang, a PhD candidate in engineering, tells me he only types messages in class or at work, because it is more discreet than speaking.
"Of course, my preference is to use voice messaging. It is so much easier. And I use it because all my friends use it," says the 26-year-old student.
Weixin versus Whatsapp
Like almost all students from mainland China, Mr Li's preferred application for instant voice messaging is Weixin, a free app launched in early 2011 by technology firm Tencent.
Its name means "micro message".
Weixin offers both instant voice and text messaging, including some unique location functions. It is a social network, allowing users to build networks, share conversations and meet new people by shaking their phone at the same time as another random user.
In just over a year, the number of Weixin users has exceeded 100m, according to a message posted by the company's chief executive Ma Huateng on Sina Weibo, an extremely popular Twitter-like app.
Duncan Clark, chairman of consultancy BDA China, says it is easy to understand why the voice messaging function on Weixin is so popular.
"It's instant gratification," says Mr Clark, who is British.
"You don't have to type, because as we all know, typing in Chinese is a pain. And Chinese is such a musical language. It's better to listen to music than type out notes."
Mr Clark confesses that, as a man in his 40s, he sometimes finds it embarrassing to hold a mobile to his mouth to record a message the way people 20 years younger do.
But Beijing-based Kai Lukoff, co-founder of TechRice.com, a China-focused technology blog, feels no such embarrassment, because all his friends use voice messaging on Weixin.
"For me, when I use it, it feels very natural. It's faster and more personal. I don't know why people in the West don't use instant voice messaging," the American says.
Weixin rebranded internationally as WeChat in April.
In addition to Chinese and English, users can choose interfaces in Indonesian, Vietnamese and Thai, other Asian languages that may prove receptive to voice messaging.
The company recently opened up its API (application programming interface), which means other developers can take Weixin's software and create their own programs to work collaboratively within the Weixin network.
This means businesses, conscious of the difficulties involved with text-based Chinese communications, are able to produce their own bespoke tools to enable employees to communicate quickly and work together by voice.
Weixin was not the first mobile messaging service in China. It was preceeded by Talkbox, a walkie-talkie app originally developed in Hong Kong, and MiTalk by Xiaomi Tech.
The Weixin service was able to grow quickly because of the massive number of users already using other services on Tencent, including Tencent Weibo. The Twitter-like service is the main competitor to Sina Weibo.
Chinese Siri
The difficulty of inputting characters in Chinese has created opportunities for Iflytek, a company based in the central province of Anhui.
It specialises in providing Chinese speech interpretation software to schools, hospitals and telecoms companies, as well as creating voice control applications similar to Apple's Siri.
The biggest part of its business is selling educational software that rates a student's pronunciation of English and even Mandarin Chinese.
iFlytek's voice assistant goes a step further, however, as unlike Apple's closed approach to Siri, iFlytek has invited developers to work on building their own applications.
The company hopes this will mean an ecosystem - produced in collaboration with third-party developers - of voice-enabled appliances: washing machines, cars and even interactive children's toys, powered by the Chinese language.
There are still improvements to be made. Hu Yi, a 34-year-old vice president at Iflytek, laughs when he explains the difficulty of creating software capable of understanding the sheer variety of regional dialects in China.
Even though the Communist Party, in theory, unified China under Mandarin, a northern dialect, most Chinese do not speak it as a mother tongue, but learn it in schools or from television broadcasts.
"This is hard," Mr Hu admits. "Our software can handle people whose accents approach Mandarin, but not if people speak their own dialects."
And he estimates it will take five to 10 years before the company's voice recognition software can.
Currently, it can cope with only Mandarin and Cantonese, a common southern dialect used in Hong Kong and Guangdong province.
Iflytek is working on making its software receptive to speakers of the unique Shanghai dialect.
"People are finding that we need to use speech not just for communication, but also for control," Mr Hu says. "That is why there is room for us."
iFlytek has, like Tencent, now allowed outside developers to access to their API, so that the technology can be integrated into many more products more rapidly.
One such offering, Dianping, lets people to speak into their phone to find restaurant recommendations nearby.
As companies like Tencent and Iflytek find ways of creating applications for a non-Roman language like Chinese, they are finding new growth areas.