US consumer confidence falls to eight-month low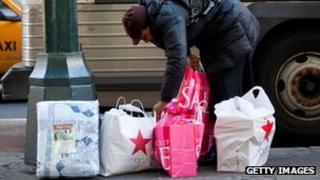 US consumer confidence has fallen to an eight-month low in May as fears about the global economy and a falling domestic stock market hit sentiment.
The Consumer Confidence Index, published by the Conference Board, fell to 64.9, down from 68.7 in April.
That was the index's biggest fall since October 2011, but above the all-time low of 25.3 reached in February 2009.
May's confidence figure was weaker than expected, with economists predicting a figure of about 70.
The figure is watched closely because consumer spending accounts for about 70% of US economic activity.
Separately, there was some cheer as evidence emerged of a tentative recovery in the US housing market.
In March, home prices rose in 12 out of 20 cities tracked by the Standard & Poor's/Case-Schiller index, the first rise for seven months.
Year-on-year house prices still fell 2.6% but the rate of decline is slowing, and in April house sales rose to two-year highs.
Although retail sales barely grew in April, the US economy grew at an annualised rate of 2.2% in the January-to-March quarter.
This was down from the 3% increase recorded in the October-to-December period, but faster than last year's 1.7% growth rate.