S Korea current account surplus almost halves in April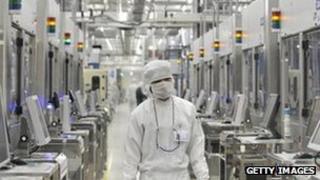 South Korea's current account surplus has almost halved in April after exports of computer and phone chips and oil products slowed.
The surplus was $1.78bn (£1.1bn) in April, down from a revised $2.97bn in March.
South Korea is Asia's fourth-largest economy and relies heavily on exports for growth.
Faced with weaker demand in Europe and the US, it is now looking at ways of boosting trade within Asia.
The country's exports in April were worth almost $45.8bn, down from a little over $47.3bn in March.
In recent months the growth in exports from South Korea has slowed significantly.
Its exports to Europe fell just over 20% in April compared with the same month last year.
Exports to the US rose in April by just over 4% year-on-year, but slowed dramatically when compared to March - when they were up almost 28% on a yearly basis.
South Korea's government has forecast a gradual recovery for the country's economy in 2012.
However, economists say a recovery will only be realised once exports pick up.
"The Korean economy will remain in a slump in the second quarter, weighed by shrinking exports and lacklustre domestic demand," said Lee Sang-jae, economist at Hyundai Securities.