Sportingbet's profits hit by Spanish ruling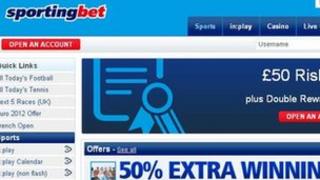 Quarterly profits have slumped at Sportingbet after it was forced to suspend its Spanish operation following a demand for back-dated tax payments.
The online gambling firm made a pre-tax profit of £300,000 in the three months to 30 April, down from £12.1m a year earlier.
Sportingbet suspended its Spanish unit in March after a court upheld an injunction brought by a casino firm.
But it intends to restart its operations in Spain shortly.
It expects to receive a licence from the Spanish government after agreeing to settle a tax demand for 14m euros ($18m; £11m).