European Commission suggests bank bailouts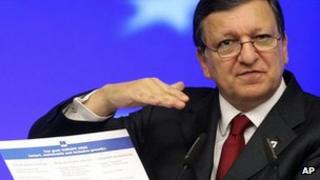 The European Commission has proposed that money set aside for helping governments should be used to bail out ailing banks directly.
The commission also pushed for more integration through a euro-wide "banking union" and a single deposit protection scheme to protect savers.
"Flexibility and speed are of the essence," its head Jose Manuel Barroso said.
The call comes as fears over the health of Spanish banks have shaken markets.
Bankia, Spain's fourth largest bank, has asked for another 19bn euros recently from Madrid, which itself is struggling to get spending under control to meet its deficit targets.
"To sever the link between banks and the sovereigns, direct recapitalisation... might be envisaged," the commission said.
The commission's comments are part of its analysis of Europe's response to the debt crisis. "The economic situation in the euro area deteriorated significantly over the last year," the commission said.
"Growth differences among the euro area member states are expected to persist."
'Banking union'
But it said that the crisis should not stop banks from becoming more linked across Europe.
"The crisis has slowed the financial integration process and ambitious steps to accelerate and deepen financial integration may be needed."
The money for bailouts to banks would come via the European Stability Mechanism, the eurozone's permanent bailout fund, which becomes operational from July.
But the ESM is currently designed only to lend to ailing governments.
It added: "A closer integration among the euro area countries in supervisory structures and practices, in cross-border crisis management and burden sharing, towards a 'banking union' would be an important complement to the current structure of EMU."
The commission also seemed to back the idea of eurobonds, which would be debt jointly issued by all 17 countries in the eurozone.
"Budgetary discipline and solidarity in the euro area could also be fostered by the common issuance of sovereign debt instruments," it said.
"Creating a new market segment based on common issuance would address the current shortage of investor demand for the sovereign bonds of many euro-area member states."
The commission is consulting on project bonds - issued by the commission and the European Investment Bank - that would be invested in infrastructure.