Factory output in Japan weaker than expected in April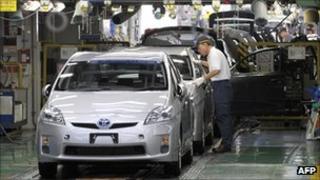 Japan's factory output was weaker than expected in April because of slower demand for electronics goods, especially in China.
Output was 0.2% higher in April from March, the Trade and Industry Ministry said. Analysts had forecast a figure of 0.5%.
The ministry said it expects output to fall in May, before rebounding in June.
Analysts cited China's slowdown and a rising yen for the expected fall.
"Growth was weaker than expected, reflecting sluggish demand for IT-related goods worldwide, particularly in China," said Tokyo-based economist Takeshi Minami, of Norinchukin Research Institute.
"The forecast for May is worrisome, as that would mean production would fall to levels seen last summer, and the expected rebound in June is also week," Mr Minami said.
Industries that contributed to the slight rise in output included transport, chemicals and electrical machinery.
As Japan continues to recover from a devastating earthquake and tsunami last year, the ministry said industrial production continued to improve.
However, demand from China would be the determining factor for continued growth, said economist Junko Nishioka, of RBS Securities.
"The yen is strengthening but that doesn't immediately change the outlook for Japanese output," Mr Nishioka said.
"More crucial is final demand in China, as Asia-bound exports have yet to show signs of picking up."