Council pension deal is outlined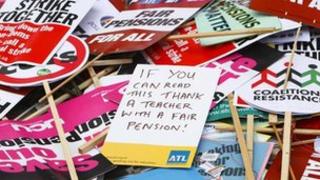 A deal to change the local government pension scheme, in line with government demands, has been proposed by employers and trade unions in England and Wales.
After months of negotiations, the two sides are suggesting that a new career-average scheme for all 1.6 million staff should start in 2014.
Considerably higher contributions will then be made by higher paid staff.
All staff will see their pension ages, for service in the new scheme, rise in line with the state pension age.
If the deal is ratified by employers and union members after further consultation, the government will approve the plan and enact the changes.
Heather Wakefield, a national official of the biggest local government union Unison, said: "LGPS 2014 [the proposed new scheme] is a sustainable, defined-benefit scheme, which is designed to protect existing members and be affordable for the low paid and part-time workers who are its majority."
Brian Strutton of the GMB union added: "I believe the proposals strike a fair balance between all the conflicting interests we have had to take into account.
"Most importantly I believe the proposals lay the foundation for continued sustainability of the LGPS, which government's original proposals would not have done."
The deal, if it goes through, will cut the combined contribution rate for staff and employers from 21.7% of staff salaries to 19.5%.
That will save just over 2% of the annual local authority pay bill, which will amount to a saving of £600m a year.
Higher contributions
If agreed, the career-average scheme - less generous than the current final-salary scheme in local government - will start a year earlier than for staff in the NHS, civil service and teaching.
But the unions believe they have safeguarded the position of many low-paid and part-time staff who they feared would have left the local government scheme altogether, rather than pay more for their pensions.
In contrast to the current maximum contribution rate of 7.5%, higher contribution rates ranging from 8.5% to a maximum of 12.5% will apply only to staff earning more than £43,000.
Along with slightly lower contribution rates for some staff earning less than £20,400, this will leave the new average contribution rate at 6.5%, the same as at present.
The new rates will only apply once the new scheme starts in 2014.
Elsewhere, the government has already enforced higher contributions this year, to be followed by more in 2013 and 2014.
It is also proposed that local authority staff who feel that their pensions contributions are too burdensome will be able to opt for a 50% pension by paying only half their new contribution rate.
Sir Merrick Cockell, chairman of the Local Government Association (LGA) said the plan was "affordable for employers and council taxpayers while being fair to members".
He added: "Along with the unions, we shared the goal of encouraging existing members to stay within the scheme and new employees to join. These proposals are an example of us working together to achieve such shared goals."
Strikes
Elsewhere in the public sector, the government is ploughing ahead with its plans, despite not having any significant measure of agreement with the relevant trade unions.
On Wednesday, doctors in the BMA trade union announced they would stage a partial strike on 21 June against changes to the NHS pension scheme.
Earlier this month, tens of thousands of other NHS staff, as well as civil servants, took part in a second national strike against the government's changes to their schemes.
This followed a much larger strike of more than a million public sector workers last November.