Jubilee memorabilia 'not a goldmine'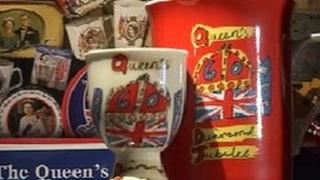 From coins to tea bags, there are plenty of souvenirs to mark the Queen's Diamond Jubilee.
According to the Centre for Retail Research, the combination of the Jubilee and the London 2012 Olympics will inject about £1bn into the UK economy, a third of which will come from memorabilia and collectables.
But industry experts are warning consumers looking for an investment that, other than the rarest of items, most memorabilia will end up being worth nothing.
They are urging people to collect items as a memento of the occasion rather than with an eye to making money.
'Social story'
Robert Opie has been collecting royal souvenirs for more than 40 years. He has items that go as far back as Queen Victoria's reign, which he displays at a small museum in west London.
He says collecting memorabilia is really about keeping a record of historical events.
"I never think of these things as an investment," he says.
"To me they are part of our social story and we want to hang on to them for ourselves, for the future and our children."
Beyond the traditional items like pottery and porcelain, his collection also includes everyday items such as jam jars and chocolate wrappers specifically labelled for the Jubilee.
"I save the mugs because they are typical, but to me the crisp packet, the chocolate wrapper or even the tea towel can be something exciting and special and have a particular flavour all of its own."
Wedding cake
The Diamond Jubilee has inspired a wave of merchandising, with retailers keen to cash in on the Queen's popularity.
At one end of the scale is a £125,000 gold Jubilee coin. At the other, teapots sporting the Union Jack are on sale for just under £10.
Collectables expert Tracy Martin warns that many of these products will not end up being the goldmine some collectors are hoping.
"I often get people coming up to me with a piece of Queen Victoria Diamond Jubilee memorabilia thinking it is worth a lot of money," she says.
"Because of its age and that it is to do with Queen Victoria, they think it is worth some money but these things were so mass-produced they are only worth a few pennies."
Though most royal souvenirs will end up being worthless, a few very rare items could become valuable.
Hugh Jefferies is from Stanley Gibbons, a company that specialises in alternative investment.
"My recommendation is something going back to one of the earlier Jubilees which has already established its investment credentials," he says.
"My favourite is the George V Silver Jubilee 2½d Prussian blue. The stamp should have been produced in ultramarine colour but a few sheets came out in the wrong shade. They were released to the Post Office by mistake.
"Lucky collectors bought them for a penny, but they are now worth £12,000 each."
Stanley Gibbons is also selling a slice of cake from the wedding of the Prince of Wales and Princess Diana in its original presentation box, which is valued at just under £2,000.