Asia shares drop as weak US data triggers economy fears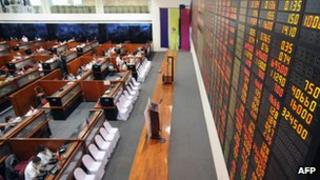 Asian markets have dropped after weaker-than-expected jobs data from the US triggered concerns about the health of its economic recovery.
Japan's Nikkei 225 index fell 1.7%, South Korea's Kospi dropped 2.8% and Australia's ASX 200 shed 1.9%.
Data out late on Friday showed that the US economy added 69,000 jobs in May, the smallest number created since May 2011.
Analysts said the data indicated the US economic recovery was losing steam.
"It is an admission of what the markets had been fearing," Peter Esho, chief market analyst at City Index told the BBC.
"There was a lot of anecdotal evidence that the US economic recovery had been flattening out and now we have got a confirmation of that."
'Totally different animal'
The weak US jobs figures are the latest in a series of bad news for the global economy.
Also on Friday, China reported that manufacturing activity in its biggest factories hit the lowest point this year amid weak domestic demand.
That added to fears about a slowdown in China's overall economy, the world's second-largest and one of its biggest drivers of growth in recent years.
Last week, data out of India showed that its economy grew at its slowest pace in almost a decade, during the first three months of this year.
To add to those woes, the sovereign debt crisis in the eurozone has also escalated in recent months.
Analysts said that all these factors were making investors nervous that global growth may slow even further.
"It is a totally different animal that we have never seen before," said Hans Goetti, chief investment officer at Finaport.
"We have literally thrown everything, including the kitchen sink, at the economy but nothing is working."
Double whammy
Japanese stocks have been among the worst hit this year.
Not only have fears of a global slowdown made investors worried about a falling demand for Japanese exports, there are concerns about profits of exporters being hit in wake of a strengthening yen.
The Japanese currency is seen by many as a safe-haven asset in times of uncertainty. As a result many investors have been selling riskier assets and turning to the yen.
It has risen almost 7% against the US dollar since 15 March.
A strong yen does not bode well for Japanese exporters as it makes their goods more expensive to foreign buyers and also hurts profits.
"The evolving global slowdown amidst global sovereign financing dilemmas has pushed the yen back into 'super yen' territory, signalling extreme pressures," said Richard Hastings of Global Hunter Securities.
The strength of the currency coupled with the global economic issues has seen the benchmark Nikkei 225 index slide more than 19% since late March.
On Monday, Japan's broader Topix index shed lost 2.1% to 693.35 points, a 28 year-low.
Further stimulus?
Analysts said that given the current global economic conditions, they expected policymakers, especially in the US to take fresh stimulus measures.
"Clearly something needs to be done and all eyes will on the Federal Reserve on what actions it takes," said City Index's Mr Esho.
"The magnitude of how aggressive the response is, is what will drive the market direction going forward."
The Federal Reserve, which is the US central bank, has used quantitative easing (QE), a process that sees the central bank pump money directly into the economy, in the past in an attempt to boost consumption and growth.
The central bank usually does this by buying financial assets such as government and corporate bonds - using money it has simply printed.
The hope is that when it pays to buy these assets "new" money enters the financial system and boosts money supply which in turn may help boost demand.
The Federal Reserve has done this twice since the global financial crisis broke out.
However, some analysts warned that while there is talk of another round of QE taking place, it may not have the desired effect.
"The problem with QE is that it has a big impact on assets prices but not on the overall economy," said Mr Goetti of Finaport.