Protest votes against Wal-Mart executives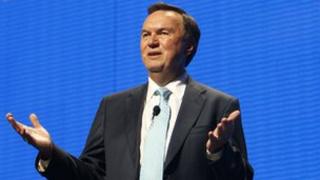 There were significant protest votes against Wal-Mart directors at last week's annual general meeting (AGM), the retailer has announced.
Pension funds and activist groups were protesting against allegations that its Mexican unit bribed officials to allow it to expand quickly.
Lee Scott, chief executive at the time, had 15.7% opposing his reappointment to the board, Wal-Mart said .
Current chief executive Michael Duke had 13.1% voting against him.
Chairman Rob Walton had 12.6% voting against his reappointment, while chairman of the audit committee Christopher Williams had 13.3% of votes cast against him.
After the AGM on Friday, Wal-Mart announced that all 15 board members had been re-elected, which was not surprising, given that the family of the company's founder Sam Walton controls about half of the shares.
Last year, all the board members were supported by at least 98% of shareholders.
Wal-Mart is investigating the allegations, which first appeared in the New York Times, but has said it will not comment until its inquiry has been completed.
The New York Times said Wal-Mart executives had failed to root out alleged bribery by company officials in Mexico.
It alleged that company officials had been informed in 2005 that bribes had been paid to obtain construction permits in Mexico, but that nothing had been done about it.