German industrial production declines in April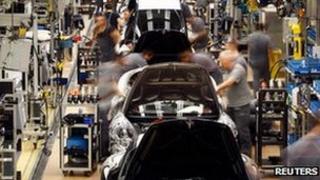 The German economy, which has kept the eurozone out of recession, saw industrial production fall in April.
Industrial production fell 2.2% compared with the previous month, the Economy Ministry said.
Other official figures confirmed the eurozone economy achieved zero growth in the first three months of 2012.
The second estimate of gross domestic product also said there had been no growth in the wider 27-nation EU in the period.
The eurozone economy contracted in the last three months of 2011, so the zero growth means it has just managed to avoid recession.
Growing problems
The zero growth recorded in the eurozone during the first quarter of the year was mainly due to strong growth in Germany offsetting contracting economies elsewhere.
Germany's economy recorded growth of 0.5% in the first quarter of the year, while Italy's contracted by 0.8% and Spain and Cyprus both contracted by 0.3%.
However, even Europe's biggest economy could not achieve industrial growth in April.
Germany's Economy Ministry said the 2.2% decline in industrial production compared with the previous month had been led by a 3.6% fall in production of capital goods such as machinery and a 3.7% fall in consumer goods.
It followed 2.2% monthly growth in March.
There was more bad news from Spain, with its industrial output down 8.3% in April compared with the same month the previous year.
The seasonally adjusted figures from the National Statistics Institute showed the eighth consecutive month of declines.
They suggested growing problems, with industrial output having dropped by 7.5% in March and 5.3% in February.
While the latest Eurostat figures for the eurozone kept the level of growth compared with the previous quarter unchanged, the figure compared with the first quarter of 2011 was revised down from zero to -0.1%.
It was exports that kept the currency bloc out of recession in the first quarter, contributing half a percentage point to the final figure, making up for investment, which knocked off 0.3 points and inventories, which took 0.2 points off the final figure.
Data on individual countries showed that Spain, the Netherlands, Portugal, Greece, Italy and Cyprus were in recession.