YPF to invest $7bn a year until 2017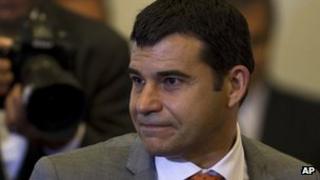 The new head of Argentina's state-controlled energy company, YPF, has said the firm will need to spend $7bn (£4.5bn) a year for the next five years to boost oil and natural gas output.
Miguel Galuccio said 1,000 wells would be drilled next year, the most since 1996, before privatisation.
The investment aims to boost production by more than a quarter by 2017.
Argentina seized control of YPF from Spain's Repsol in April, accusing Repsol of investing too little.
Mr Galuccio blamed Repsol for Argentina's huge drop in crude oil and natural gas output over the past decade.
"We need to be realistic. Although I'd like to be able to double the production of [natural] gas and fuel overnight, I'm not a magician," he said.
"In this industry, every extra barrel requires investment, technology and above all, hard work."
He added that YPF needed to "recover its leadership and vision in the country" and vowed to make the company "professional and competitive".
YPF, which made a net profit of 5.3bn pesos ($1.2bn; £767m) last year, did not give specific details about how it would meet the required investment.
"We're going to have to go out and look for partners. For that reason, we're designing business models that allow us to accommodate different types of partners," Mr Galuccio said.