Low rates help young homeowners, says debt charity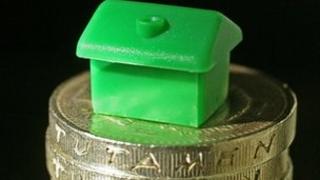 Low interest rates are easing the debt concerns of young homeowners, a charity has suggested.
The Consumer Credit Counselling Service (CCCS) said that the number of homeowners aged in their 20s seeking help from the charity had fallen sharply.
This had dropped from 4,489 in 2009 to 3,008 last year.
However, the charity warned that there was a danger of complacency, if rates rose soon.
'Multiple pressures'
The Bank of England will announce its latest decision on the level of the Bank rate on Thursday. The rate has been at a record low of 0.5% for three years, creating relatively cheap mortgage deals for homeowners.
The CCCS said that the number of its young clients facing mortgage arrears had also fallen.
"While many young adults are struggling to get on the property ladder, the outlook is more positive for those that are already on it," said Delroy Corinaldi, of the CCCS.
"Nevertheless, this is not a time for complacency as there are multiple pressures attacking their ability to pay their mortgage and many will buckle under the pressure of rising interest rates."
Although the situation has improved for young homeowners, those who rent their homes are facing more difficulties, the CCCS has said.
A week ago, the charity said it had received just over 10,000 requests for help with rent arrears last year, a 27% rise on 2010. It blamed the increase on the fact that rents had been rising while earnings had stagnated.