US economy picking up, says Beige Book survey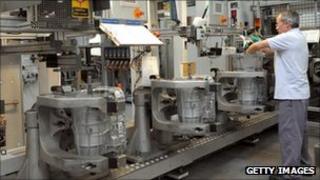 The US central bank said its regular Beige Book survey of the economy showed growth rose over the past two months.
The Federal Reserve said it suggested economic growth remained positive .
There have been worries about the US economy running out of steam after a key jobs report last week showed fewer people than expected joined the workforce.
The Beige Book canvasses opinion from businesses across the US for the Federal Reserve eight times a year.
It is used by the Federal Reserve to help set monetary policy.
The central bank said: "Reports from the twelve Federal Reserve Districts suggested overall economic activity expanded at a moderate pace during the reporting period from early April to late May.
"Manufacturing continued to expand in most districts. Consumer spending was unchanged or up modestly. New vehicle sales remained strong and inventories of some popular models were tight."
Only one of the 12 districts, Philadelphia, reported slower growth since the last report.
Clues
The previous report, released on 11 April, described growth in more muted language, saying it was "modest to moderate".
Federal Reserve President Ben Bernanke, will give evidence before a congressional committee on Thursday where his comments will be closely watched for clues as to how he and his fellow committee members may act when they next meet to set monetary policy in two weeks' time.
Last week's non-farm payroll figures showed only 69,000 more hirings over the month, around half the level expected, and had raised fears that the US economy was slowing down.
But many economists think the hiring rate has simply fallen because employment levels were higher than normal in winter as a result of the mild weather.