Spain downgraded as bailout estimates mount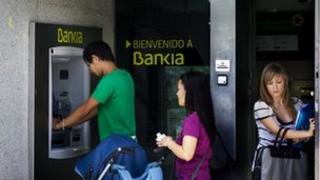 Spain's credit rating has been downgraded as estimates on the size of the bailout it needs begin to mount up.
Fitch cut its rating on Spanish government debt by three notches to "BBB", a sign it thinks Spain's ability to honour its debts has weakened.
Earlier, there was strong demand for Spanish bonds at an auction on Thursday, seen as a key test of the country's ability to raise funds.
However, it did have to pay a higher interest rate than before.
The rate on the 10-year Spanish bonds was 6.044%, up from the 5.743% from the last auction in April.
Spain sold 2.1bn euros ($2.6bn; £1.7bn) in medium and long-term bonds.
The result showed Spain was not locked out of credit markets, although its finance minister said on Tuesday that these were "effectively shut" to his country.
The higher rate, though, is a sign of weakening confidence in Madrid's ability to repay its debts, a view underlined by the Fitch downgrade.
Shortfall
Fitch put Spain's creditworthiness at BBB, two notches above junk in its ranking scheme.
It also estimated the country's banks would need at least 60bn euros (£49bn, $75bn), or as much as 100bn euros.
An International Monetary Fund (IMF) report due out on Monday is expected to show Spanish banks need at least 40bn euros.
It is the first of a number of reports for which the Spanish government is waiting before it decides how to recapitalise its banks.
Ratings agency Standard and Poor's earlier said Spain's financial system could absorb up to 60bn euros of losses on bad loans.
But if it needs to find 80-112bn euros, then the banks would need government or EU aid, it said.
Help
German Chancellor Angela Merkel, who held a meeting with UK Prime Minister David Cameron, said the EU stood ready to act.
But she has called for Europe to take a gradual path towards political union.
For his part, Mr Cameron urged immediate action ,calling for measures to calm nervous markets.
European authorities are said to be working on a way to help Spain's troubled banking sector.
UK Chancellor George Osborne said: "I know they are working very hard on an imminent solution."
"I am optimistic that people are working hard on a solution, and a solution, I think, is coming," he told the BBC.
Borrowing costs had not been as high as feared due to these efforts in Brussels to try to find a way to help Spain, analysts suggested.
Spain remains the focus of international concerns. In other developments:
'Prohibitive rates'
Crisis jargon buster
Use the dropdown for easy-to-understand explanations of key financial terms:
AAA-rating
The best credit rating that can be given to a borrower's debts, indicating that the risk of borrowing defaulting is minuscule.
In the Spanish bond auction, there was demand for 3.3 times as many 10-year bonds as were available on Thursday.
The yield on Spanish 10-year bonds from previous auctions, known as the secondary market, fell below 6.1% in trading on Thursday, having recently risen above 6.7%.
"Although the yield on the 10-year is just a tad below secondary market levels, these are prohibitive rates which underscore the dramatic deterioration in Spain's perceived creditworthiness," said Nicholas Spiro of Spiro Sovereign Strategy.
"If it wasn't for its banks' continued support at auctions, Spain would be unable to sell its debt."
Spain is keen to avoid a full international bailout, which would be politically damaging and come with strict economic conditions.