Network Rail profits and debts rise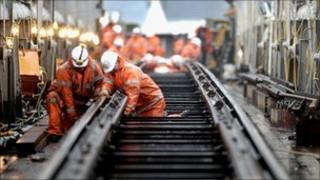 Network Rail, which maintains Britain's rail track and signalling system, has announced a rise in both its profits and debts but expects to cut more jobs.
Pre-tax profit rose to £471m in the year to the end of March, from £438m the previous year.
But net debt also increased to £27.28bn from £25.05bn. Network Rail's debt is guaranteed by the government.
The number of trains running on time rose to 91.6% in 2011-12 from 90.9% in 2010-11, it said.
Staff numbers fell slightly, though average salaries rose by 2.2%.
Network Rail's finance director Patrick Butcher said hundreds of jobs were to go over the next year, as the company continued to try to meet efficiency targets.
"We have a big project this year which is to open up a new office in Milton Keynes, rationalising 18 other facilities into one single building and that alone will enable us to operate more efficiently and reduce probably another 200 to 300 jobs during the course of next year," he said.
Although Network Rail's net debt rose, reflecting its capital expenditure programme, its operating costs fell, meaning it was able to repay £153m over the past two years to the Scottish and Westminster parliaments.