Interest rates freeze means pain for savers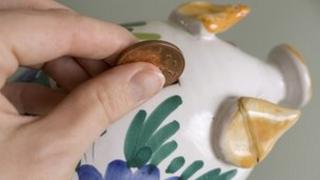 Many savers are seeing the value of their funds dwindle as interest rates continue to lose pace with the rising cost of living.
The Bank of England has announced that the Bank rate will remain at a record low of 0.5% for another month.
Some of the most generous savings rates for instant access accounts stand at 3%, the same as the rate of inflation.
But, on average, an instant access account in the UK only offers 0.22% in interest, Bank of England figures show.
The same data shows that the average cash Individual Savings Account (Isa) gives interest of 0.66%.
Mortgage pricing
The average savings rate on an instant access account is slightly less generous than a year ago, when it stood at 0.3%, but Isas are a little more generous.
Overall, rates have changed little during the three years that the Bank rate has been at a record low.
Some banks and building societies have been offering more generous rates in order to raise funds to lend out in mortgages.
Banks and building societies are cutting back lending because it is still tricky to raise the cash from international financial markets. Savers are the only solid alternative.
This also means that the cost of fixed-rate mortgages for new borrowers has risen slightly from the start of the year.
At the end of December, the typical two-year fixed-rate deal for those offering a 10% deposit was 5.45%. By the end of April this had risen to 5.79%.
A three-year deal, with a 25% deposit, became more expensive over the same period, rising from 3.63% to 4.03%, the Bank's figures show. However both of these types of mortgages were a little pricier than a year earlier.
"The trend since early this year of steady upward movements in new business mortgage rates, for both fixed and variable rates, started to change towards the end of last month, with recent rate changes being mixed, albeit with increases still predominating," said Ray Boulger, of mortgage broker John Charcol.
"Taking a slightly longer term view, the eurozone crisis could easily result in money markets freezing again, resulting in a further reduction in lending capacity."
There were some suggestions that the Bank of England could have cut the Bank rate to 0.25% this time.
This would have benefited about 2.5 million households, which have mortgages that track the Bank rate.