Bellway on track after spring sales boost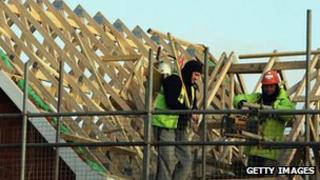 House builder Bellway says a "resilient" spring selling season means it is on track to achieve its sales growth target for the year.
Bellway said a 9% rise in reservations in the 17 weeks to 31 May meant its 5% sales growth target was "secure".
The government's first-time buyer NewBuy scheme boosted reservations, but Bellway said it was too early to judge its long-term success.
Bellway said its average house now sold for £190,400, up 5% on last year.
Its average private weekly sales rate, which excludes social housing sales, jumped 19% in the 17 weeks to the end of May compared with last year.
The house builder's strength was helped by its focus on the buoyant London property market, which continues to see strong demand from overseas buyers.
Bellway said the NewBuy scheme, which helps first-time buyers get onto the property ladder, contributed 90 reservations in the period, but said its ultimate success would depend on the mortgage rates offered by lenders.
"Bellway is well positioned to continue its three pronged strategy of increasing volume, average selling price and operating margin," the firm said in a statement.
Analyst Numis upgraded Bellway to "buy" following the statement, saying: "This is a solid statement and confirms that trading remains robust."
Rival house builders have also been issuing upbeat trading statements. Last month, Bovis said it was predicting strong profit growth this year, while Persimmon and Taylor Wimpey have also reported good trading.