BA's owner IAG says eurozone woes hitting growth plans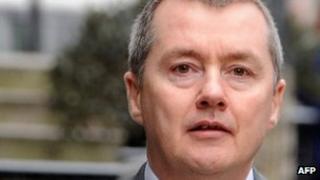 The owner of British Airways, International Airlines Group (IAG), has said that the economic woes in the eurozone have hit its expansion plans.
Willie Walsh, IAG's chief executive, said its interest in buying Portugal's biggest airline TAP had "significantly waned" due to the situation in Europe.
Meanwhile, UK airport operator BAA said the eurozone problems were affecting passenger numbers at London Heathrow.
It has seen a big fall in passengers flying to countries such as Greece.
Cargo affected
IAG had previously expressed an interest in buying TAP to boost its long-haul operations, specifically to Brazil.
However, Mr Walsh told reporters during a visit to Beijing: "We aren't looking at any acquisitions at the moment.
"I don't see there's anything likely to be available in the short term that would be of interest to us."
The latest monthly figures from BAA showed that May's passenger numbers between Heathrow and Greece were down 11.3% from a year earlier.
Numbers to and from Portugal were 11.4% lower, while Italy was down 9.2%.
BAA added that cargo flights were also affected.
In addition to Heathrow, BAA owns Stansted, Southampton, Glasgow, and Aberdeen airports.
Passenger numbers across the five airports - and Edinburgh, which it sold at the end of May - totalled 9.3 million last month, down just 0.1% from a year ago.
Analyst Tim Coombs, managing director of Aviation Economics, told the BBC that it was inevitable that the economic problems in the eurozone would hit air passenger numbers.
"The link between economic growth and demand for air travel is very clear," he said.
"The situation [regarding falling passenger numbers to certain eurozone nations] at Heathrow is interesting, because at Heathrow you have both business and leisure passengers.
"Regarding Willie Walsh's comments, TAP was IAG's next takeover target, but it has been put off by its increased exposure to Spain though the merger with [Spanish carrier] Iberia."
BAA and Willie Walsh's comments come a day after trade group International Air Transport Association warned that airline losses in Europe were likely to surge as a result of the continuing difficulties in the eurozone.