Birmingham City's accounts questioned by auditors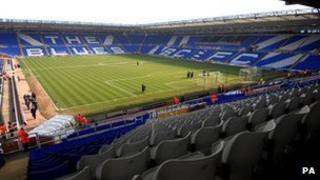 The auditors that signed off the latest annual accounts of Birmingham City FC have questioned whether the club gave them all the required details.
Accountancy group BDO said it was "sceptical as to whether we have received all relevant information" from the directors of Birmingham City PLC.
The club's owner, Carson Yeung, disagreed with the comments.
He said the the directors had "taken all the steps" to give the auditors all the information required.
Evidence
The dispute is in regard to Birmingham City PLC's results for the year to 30 June 2011, which were filed last week at Companies House.
BDO added: "During the audit process an individual director made comments in writing about certain transactions reflected in the financial statements that indicated concern as to the integrity of these transactions and their recording/or disclosure in the financial statements.
''We have not been provided with sufficient and appropriate evidence that the board of directors have formally considered and resolved as necessary the issues relating to these comments, or that these comments have been withdrawn by the individual director.''
Birmingham City reported an annual pre-tax loss of £12.4m, compared with a profit of £109,000 a year earlier.
The loss came as the club's staff costs, which includes player wages, rose from £36.7m to £45m.
The dispute over the club's latest accounts also comes as its parent company Birmingham International Holdings (BIH) continues to delay the release of its own figures.
It said last month that the already-delayed release of its results for the six months to 31 December would not now be published until August.
BIH's annual results have also been delayed.
Mr Yeung, who owns both Birmingham City and BIH, continues to face money-laundering charges in Hong Kong, which he denies.
Mr Yeung took control of Birmingham City in 2009, and is the club's largest single shareholder with a 26.3% stake.
He worked in England as a teenager before becoming a hairstylist in Hong Kong. He made his fortune through investing in nearby Macau in the 1990s.