Esprit shares slide 22% after its chief executive quits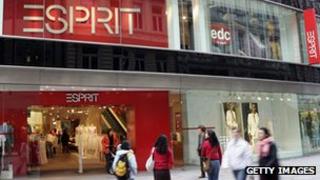 Shares of clothing retailer Esprit have fallen after the firm announced that its chief executive Ronald Van der Vis had quit.
His departure comes at a time when the firm has been trying to restructure its operations in a bid to improve its earnings.
Its shares fell up to 22% to HK$10.46 on the Hong Hong Stock Exchange.
Mr Van der Vis is the second senior executive to leave the company in the past few months.
In a statement to the Hong Kong Stock Exchange, Esprit said Mr Van der Vis was leaving for "personal and family reasons".
'Unclear'
The firm, which relies heavily on sales from Europe, has been going through a tough time amid a fall in consumer demand in the region as it grapples with economic problems.
In February, Esprit reported a 74% drop in its profits for the July to December period, from a year earlier.
As a result, the firm has announced plans to restructure its business model.
It has said it will shut all of its North American stores and shift its focus on increasing its presence in emerging economies in Asia, especially China.
However, analysts said that the departure of its chief executive had got investors worried about whether the firm will be able to carry out the restructuring plans in time.
"With Mr van der Vis' departure, it is unclear if Esprit has sufficient management resources and capability to drive and manage its transformation plan," said Alice Hui a retail analyst with DBS Group.