Patients struggle to buy drugs in cash-strapped Greece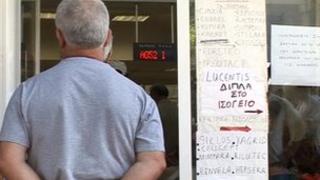 It is eight in the morning and a long line of people snakes down a busy main street in central Athens.
They are waiting in line outside a state pharmacy, trying to get their hands on the prescription medicines they need.
A hastily handwritten poster stuck to the door lists some hard-to-obtain products and directs patients to other offices.
It is the latest and perhaps the most worrying symptom to date of the financial malaise and debt contagion that is causing pain for millions, and starving businesses of essential funds.
Many of Greece's private pharmacies are now warning that they may be forced to close because of the country's highly indebted and fast deteriorating health funding system.
Imported drugs from major companies used to treat cancer and other chronic conditions are simply no longer being shipped.
Long waits
International suppliers of all kinds of goods no longer offer their usual credit terms and are demanding cash upfront because they fear they will never be paid.
One man stops to explain that he is struggling to find an expensive and essential cancer drug for his 70-year-old mother.
"We have a ticket for an appointment with number 204 on it, but they are still at 63," he says.
"The system is 30 years out of date as it is. We'll probably go home without the drug and have to come back again. It's becoming the same every time."
Breaking down
Drug prices are lower in Greece than in many parts of Western Europe.
Individual pharmacies in towns and villages have always been paid large subsidies, which heavily reduces the cost of essential medicines so that customers can afford them.
But the system is breaking down.
Most of the state social security and health funds are running on empty, owing the pharmacists alone 750m euros ($945m; £608m).
Konstantinos Lourantos has his own pharmacy store in an Athens suburb.
He also heads the regional pharmacies association.
"Those who supply the drugs from the pharmaceutical companies to the stores continue to pressure us and don't give us any of the credit period that they used to," he says.
"This means that the pharmacies are obliged to pay cash for the products they buy."
"Meanwhile the health insurance funds - now all joined together - have stopped paying and still owe us money from 2011. As pharmacists we can no longer go on making up the difference."
'Big unknown'
It is not just pharmacies caught in the crossfire as the country struggles with deepening recession and the mammoth task of reforming archaic state institutions.
Just outside Athens in a smart industrial unit, a company called Kyvernitis runs a showroom supplying upmarket, architect-designed shelving and office systems.
It imports many essential components from Germany.
"We don't have the resources now to keep everything on hold for many more months. We can't be sure [that] the banks are going to support us," says Nikos Balaskas, the sales director.
"We have taken some financial steps but we are not in a panic, nor have we taken all our money out of Greece."
One big unknown for everyone here is what happens to business loan liabilities if the euro is replaced as the national currency with a new drachma.
George Paleokrassas, an Athens partner at the law firm of Watson, Farley and Williams, says he can only make an educated guess.
"If we take the example of a Greek borrower who has borrowed in euros from a Greek bank and is obliged to make those payments in Greece, it is likely that those obligations will be redenominated into the new currency," he says.
"If the same borrower has borrowed in euros from an overseas bank and is obliged to make those payments outside of Greece it's likely that those obligations would continue to be in euros."
Waiting for some resolution to all this in Greece is agonising for everyone from sick patients wanting medicines to businesses desperate for cash flow.
No one can rely on their local banks. Some suppliers may even be choosing not to pay because they expect they may be able settle their bills more cheaply later in new drachma.
Until Greece exits the euro or pledges to stay in, things seem unlikely to get any better.