Belo Horizonte builds for World Cup 2014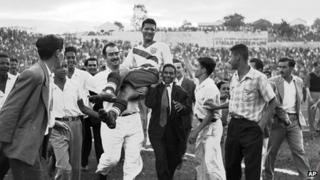 The England football team that recently exited the European Championships departed a major tournament to greater acclaim than their counterparts in 1950.
Then, England came back from the World Cup in Brazil with their tails between their legs.
It is exactly 62 years ago today that the team suffered one of the biggest World Cup shocks, losing 1-0 to the USA.
That game, which many in the British media mistakenly thought had actually finished 10-1 to England, was played in the Brazilian city of Belo Horizonte.
The capital of the Brazilian state of Minas Gerais played host to three games, with the 10,000 who saw Joe Gaetjens score the winning goal making up the biggest crowd.
"This game is famous," says Rogerio Bertho, from Belo Horizonte's committee for the 2014 World Cup.
"It is one of the biggest upsets in World Cup history.
"It is still in the memory of football fans. At the time England were one of the biggest teams in the world, playing against a team that was not well known for playing football.
"We have people in the city who were at the match, and they are always telling the story of this game."
International boost
Now the city of 2.5 million people is to play a hosting role again, as the World Cup returns to Brazil in two years' time.
Belo Horizonte is known nationally as a strategic leader in Brazil's economy and a major regional centre of commerce, with a developed industrial sector.
It is one of 12 cities chosen for the tournament, but is also one of six host cities for the Confederations Cup preparation event next year.
"We are not very well-known city internationally," says Flavia Rohlfs, also a member of the Belo Horizonte 2014 World Cup committee.
"We are a young city, only 113 years old, and we want to have our city more well-known around the world.
"The World Cup will help us with that."
It is hoped that both events will precipitate further investment in the city, the third largest in Brazil and only one hour by air from Rio and Sao Paulo.
The city's Mineirao Stadium is currently scheduled to host three Confederations Cup matches in 2013 and six matches, including a semi-final, in 2014.
The stadium - the second largest covered football stadium in Brazil - is being almost rebuilt from scratch, and work on what will be a 64,000 capacity arena should be completed by the end of the year.
The city says it is currently on schedule with its preparations, and was recently praised for its construction work in a survey commissioned by the Ministry of Sport in Brazil.
New hotels
It is hoped the football events will provide a boost to the tourism sector, with some 200,000 visitors from outside Brazil expected around the football.
"We are investing in building 40 new hotels," says Ms Rohlfs.
"It is a good opportunity for our city, and we have expectations that after the World Cup the city will experience more tourism, investment, and play host to business and trade events, as well as sporting events.
"We believe we are a good location for business events and business tourism."
In addition, the city - situated in the south-east region of Brazil - has invested 1.4bn real (£334m) in transport infrastructure.
Terminal One at the city's Confins International airport has been upgraded and a second terminal is to be built.
A second airport, Pampulha, which is a short journey from the football stadium, is also being upgraded ahead of the World Cup.
"All this should mean more jobs," Ms Rohlfs adds.
Football heritage
Belo Horizonte has two of the most highly rated training centres in Brazil - Cruzeiro Esporte Clube and Clube Atletico Mineiro.
And during the global tournament in 2014 the city aims to host at least one leading national football team at one of the training centres.
As well as boosting the city's sporting credentials it would also attract visitors from any footballing nation that chooses to be based in Belo Horizonte.
"We have a perfect climate for football, the World Cup will be held in the winter, which is like the European summer," says Mr Bertho.
He also points to the city's football heritage and culture, with two local football teams - Cruzeiro and Atletico Mineiro, and the players that have been produced or played in the city, including Ronaldo, Gilberto Silva, Tostao, Eder, Cerezo and Nelinho.
A delegation from Belo Horizonte has been visiting the Euro 2012 football championship in Poland to learn hosting lessons, and meeting key people from international football federations.
It has also given them the chance to sell the city to European nations.
"We have been seeing first-hand how a city handles a major sporting event such as Euro 2012 and learning from their expertise," says Ms Rohlfs,
"I was very impressed by the welcome they gave to visitors, and also their volunteering programme. It was all very interesting and useful.
"Now we have to continue with our preparations, and are very excited to be hosting games in the Confederations Cup and World Cup."