Indonesia: Clamping down on consumption at what cost?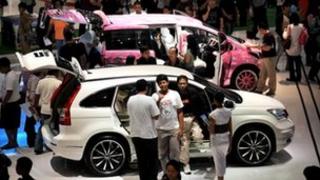 At the launch of the new Nissan Evalia in Jakarta, the popular tune Love Is In The Air is being blasted from the speakers to accompany the brand new car's arrival on to the stage.
The Evalia sells for a starting price of about $15,000 (£9,700), and is targeted at young Indonesian families who are just starting out in life.
These consumers, and their growing spending power, are a big attraction for firms such as Nissan looking to cash in on Indonesia's economic boom.
However, there are fears that the purchasing power of this segment may be reduced in the coming weeks and months.
That's because the Indonesian central bank is putting in place new regulations which will see consumers pay higher downpayments while making purchases on credit.
From now on, Indonesians who want to buy a new car will have to pay as much as 30% of the car's value using their own funds.
For those keen on buying a motorbike, they will have to fork out up to 25% of the value up front, while for commercial vehicles that figure will be up to 30%.
Currently, consumers can drive away a new vehicle by paying as little as 10% of its value, with the rest funded by a loan.
Kintaro Izumida, the president director of Nissan Motors in Indonesia, says his firm will not be hurt much, as it already asks consumers to pay a higher proportion up front, but warns that overall demand will be affected, not least in the two-wheeler segment.
"They are collecting next to nothing for their downpayments and the motorcycle industry is huge," he says.
And its not just vehicles, buyers will also have to pay a higher amount up front while purchasing a house.
The minimum downpayment for apartments and houses above 70 square metres will now be 30%, compared with between 10% to 20% currently.
Slower sales
Not only are these measure expected to put a strain on consumers' finances, there are fears that demand in these sectors may be affected.
In the last few years there has been a rash of new apartment building in big cities like Jakarta, thanks to the strong economic boom.
Dotted all over the skyline, you can see giant structures growing out of the landscape - signs of the confidence in the Indonesian economy.
As a result of the economic growth, more middle-class Indonesian families are able to afford their own place.
"The rising middle class has more disposable income these days," says Todd Lauchlan, the country head for Jones Lang LaSalle.
Indonesia has also benefited from a large chunk of its population being of a relatively young age.
A lot of these youngsters are starting their own families and looking to move out of their parents' homes, which has contributed to growing property demand in the country.
However, industry experts warn that the new regulations may result in a dip in property sales in the near term.
"At the margins, you'll definitely see some demand affected," Mr Lauchlan says.
"What you may see is that homebuyers who need to get that extra 10% or 15% for their deposit will save a bit more, or borrow from their families, to make the downpayment.
"So it may just take a bit longer for the sales to go through."
Next crisis?
But that prudence is exactly what the Indonesian central bank wants to instil in this country's middle class.
"Our automotive finance growth by the banks last year was 55%. That's the highest in the world," Difi Johansyah, spokesman for Bank Indonesia, tells the BBC.
"It brought some alarm to us. We don't want [anything] to happen to our economy or our credit financing. [Because] that will affect the banks that we have been safeguarding since the last crisis in 1998."
The Asian Financial Crisis in 1998 was one of the lowest points for the Indonesian economy.
Many here still remember the turmoil the events of that year brought to the country.
The economy virtually collapsed, and investors basically wrote Indonesia off. Its taken several years for it to bounce back.
These days Indonesia is an economy on the rise and is among the region's fastest growing ones.
But officials say that despite the growth, they can't afford to be complacent.
"We do not know what will happen in the next crisis - if there is one," said Mr Johansyah.
Policymakers want to ensure that the growth continues, even at the risk of temporarily curtailing consumption, one of its biggest drivers.
They say by doing so they are mitigating the risks of a repeat of the 1998 fiasco.