Mortgage lending slumped in April, lenders say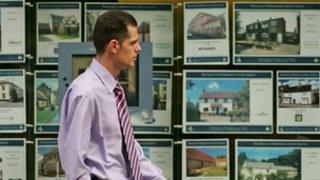 Mortgage lending slumped in April, after the end of the stamp duty concession for first-time buyers, lenders have said.
Figures from the Council of Mortgage Lenders (CML) show that the number of loans to home buyers fell by 30% between March and April to 36,000.
The biggest fall was among first-time buyers, with loans to this group down by 48% in the month, to just 12,600.
The CML said it was unlikely the market would recover soon.
Paul Smee, director general of the CML, said: "April's figures show the expected effect of the end of the stamp duty concession on UK mortgage lending."
"Given the economic uncertainty, any significant pick up in lending in the coming months seems unlikely."
Mark Harris, chief executive of mortgage broker SPF Private Clients, said the latest figures were particularly gloomy.
"Not only was there a decline in the number of first-time buyers, lending fell across the board, suggesting that a sustained recovery in the housing market is a long way off," he said.
"The added problem now is the growing eurozone crisis. Nobody is sure how this will pan out but it is likely that lenders will take a 'wait and see' approach, becoming more cautious about the volumes of lending they do until there is some resolution, which is likely to take some time."
Economic worries
Until 24 March there had been a two-year concession for first-time buyers, in which they did not need to pay the normal 1% stamp duty rate on properties worth £125,000 and £250,000.
The concession had been brought in by the previous Labour government to try to stimulate the housing market, but the policy was deemed to have been a failure by the coalition chancellor George Osborne.
In the run up to March, lending and sales rose as some buyers tried to take advantage of the tax holiday before it expired.
Sales then slumped, dropping from 88,000 in March to across the UK to just 65,000 in April.
That was the lowest monthly figure since February 2011.
"The housing market may well be hit in the near term at least by substantial consumer concern over the economic outlook with the UK currently back in recession," said Howard Archer of IHS Global Insight.
"Serious worries over the situation in the eurozone and how this could hit the UK economy may well also lead to increased caution over buying a house."