Coryton closure: Unions urge MPs to meet at risk workers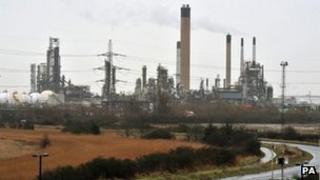 Union leaders have urged ministers to meet workers from the Coryton oil refinery in Essex, to explain why they have ruled out using state aid to save the plant from closure.
The government said it will not apply to Europe for permission to use state funds to keep the refinery open.
About 850 jobs are at risk after Coryton's parent company went bust.
Ministers said overcapacity in the refining industry meant it would not be sustainable to provide government help.
The Labour Party and unions have pressed ministers to consider putting up cash to keep the refinery - which supplies about 20% of south-east England's fuel - going until administrators can find a buyer.
The future of the Thames Estuary refinery has been in doubt since January, when its Swiss-based parent company, Petroplus, became insolvent.
An economic impact assessment report commissioned by Thurrock Council revealed the closure or change of use of the site would cost about £107m in costs such as materials, contractor payments, and wages.
'Devastating impact'
Two weeks ago administrators PricewaterhouseCoopers said they had failed to find a buyer and operations would be run down.
Labour MPs and local Lib Dem MP Bob Russell tabled a Commons motion on Monday calling on the government to step in to allow the refinery to remain open until a buyer is found.
They said the refinery was an important national infrastructure asset and that its closure would have "a devastating impact on the people of Essex" and risk making the UK more dependent on foreign fuel imports.
They have been calling on ministers to approach the European Commission to find out if short term state aid could be offered to the refinery.
Unite and the GMB unions have both condemned the government's decision.
Unite General Secretary Len McLuskey said the government's actions were "simply not good enough".
He added, "Last night, the Chancellor pledged to pump in at least £100bn into the banking system to boost lending... in an attempt to build a financial firewall against the situation in Greece.
"Yet, a similar request from Unite for state aid... to tide over Coryton until a viable buyer is found to take over the oil refinery is dismissed by ministers out-of-hand.
"[Energy Secretary] Ed Davey and his ministerial team should have the courage to... drive to Coryton to tell the workers why they have to lose their jobs, while bankers in the City scoop up outrageous and undeserved bonuses."
'Short term fix'
But the Department for Energy and Climate Change (DECC) said that overcapacity in the refining industry and declining demand for petrol meant it would not be sustainable for the government to provide assistance even if the EU allowed it to do so.
A spokesman added: "If Government did step in to help Coryton, this would be a short term fix, and it could potentially lead to job losses at other refineries who would be at an unfair disadvantage to Coryton.
"This was a very difficult decision and it is particularly regrettable that people may lose their jobs.
"The closure of Coryton as a refinery should not have any impact on supply of fuel to London and the south east. There are many other supply points and operational refineries which can be used."
Some redundancies are expected next week. The government says this is regrettable, but it was working with local agencies and Jobcentres to help the refinery's skilled workforce find new positions.
About 100 workers protested at the site and in Corringham town centre on Monday.
A demonstration was also held on Thursday outside London's Royal Courts of Justice where Prime Minister David Cameron was giving evidence to the Leveson Inquiry.
In February, a group of financiers agreed to pay to refine their own oil at the plant for three months, giving administrators more time to find a new buyer.