Coca-Cola returns to Burma after a 60-year absence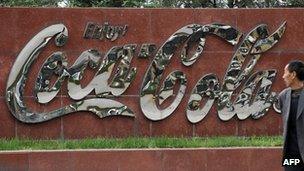 Coca-Cola will resume business in Burma after a 60-year absence, following a US decision to suspend investment sanctions against the country.
Officials suspended the sanctions last month as the country has moved towards democratic reforms.
Coca-Cola says it will start doing business in Burma as soon as the US government issues a licence allowing them to do so.
The country was one of only three that Coca-Cola does not do business with.
The world's largest soft-drink maker left Cuba after the Cuban Revolution, when Fidel Castro's government began seizing private assets. They have never operated in North Korea.
In a statement, the company said they would start with importing products from neighbouring countries as it establishes local operations in Burma.
From 1962 to 2011, the country was ruled by a military junta that suppressed almost all dissent and wielded absolute power in the face of international condemnation and sanctions.
US and European leaders have recently made their first visits to the country in decades and offered reduced sanctions as Burma takes further steps towards democratic reform.
The announcement comes amid reports of tens of thousands of people displaced by violent clashes between Buddhists and Muslims in Burma's north-western Rakhine state on Friday.