Insurance cover for flooding 'must be speedy'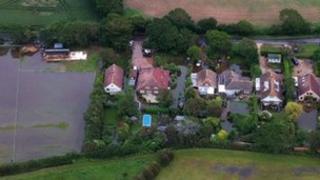 Claims for flood damage should be dealt with by insurers quickly and as clearly as possible, an ombudsman has warned.
The Financial Ombudsman Service said it had seen a "notable" increase in complaints about flood insurance over the past two years.
Although bad weather has been one cause, another issue was how long it could take to sort out claims.
However, the insurance industry said it was geared up to deal with flood claims speedily.
'Dream house'
Over the past weeks, some parts of the UK have witnessed more rain in less than a day than would normally be seen in a month. For many, now is time for the clean-up and to start claiming for any damage on their insurance.
Kate Fellick is at the start of that process. Her family moved to a bungalow in Earnley, west Sussex, just two months ago. She said it was their dream house.
As it is not far from the sea, she knew that flooding was a risk, but neighbours said there had not been any serious damage in 25 years.
That all changed on Monday. She watched as the rain poured down, and then it started seeping through the floorboards.
Soon the whole house was flooded. Many of the family's belongings have been ruined, from sofas, televisions and beds, to photos, clothes and the children's toys.
Mrs Fellick, who said she was heartbroken, now has a lot of questions about what happens next.
"What are we going to do? What is our family going to do? Where are we going to live? Are we going to get the insurance? Is it going to cover us? There are a lot of things that need to be sorted out," she said.
It is still too early to know how many people have been hit by floods in the last week. When there was major flooding in the UK in 2009, there were 25,000 claims.
The Association of British Insurers (ABI) said that generally, a flooding claim could amount to an average of £20,000 to £40,000.
Martyn James, from the Financial Ombudsman Service, said: "We have seen a considerable increase in complaints related to floods, storms and other weather-related problems."
The ombudsman upholds about half of all complaints about buildings insurance. If it thinks a company is taking too long to settle a claim, it can make the insurer pay compensation to the policyholder.
Long process
Anyone at risk of flooding should contact their insurer before a problem emerges, to ensure the correct level of cover is in place.
Those whose homes are already flooded can take steps to speed up the claims process.
"Speak to your insurer as soon as possible, find out what your rights are, and what you can look out for in the policy," Mr James said.
"It may be that they will put you up in a hotel, or provide expenses for you while your property is being assessed and put back together.
"But bear in mind that it pays to be realistic. If you are dealing with structural damage to your home, it may take a while to sort out. We find communication is the way forward."
"As long as consumers are aware of what the timescales will mean for them personally, it is usually enough to sort things out. It is when communication breaks down that we have to look at complaints."
Huw Evans of the ABI insisted that, on the whole, customers were happy with the way the industry dealt with flood claims.
But he accepted that companies "can always do a better job of explaining to people what happens if a flood occurs".
"Dealing with flood damage is a very time-consuming process. When people are flooded, their natural human reaction is to want it to be fixed and sorted as soon as possible, for their house to go back to the way it was," he said.
"The problem is, flooded houses need to dry out. It can take months and months before the property can be restored to how it was before. That is why it often takes a long time to finalise a flood claim."