Vodafone bid for C&WW backed by key investor Orbis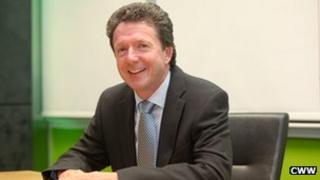 Vodafone's £1bn takeover bid for Cable and Wireless Worldwide (C&WW) looks set to succeed after C&WW investor Orbis said it would back the deal.
C&WW needs 75% of votes to push through the takeover at a shareholder meeting on Monday.
Bermuda-based fund Orbis owns a 19% stake but had originally deemed the 38 pence per share offer too low.
The deal will turn Vodafone into the UK's second biggest telecom operator behind BT.
C&WW's shares rose 8% to 37.8 pence on news of Orbis' support. Vodafone shares were down 0.4% at £1.73 in early trading.
Vodafone plans
C&WW has one of the UK's biggest fibre-optic networks. Its 12,738 miles (20,500km) of cables would reinforce Vodafone's UK base stations and enable the new owner to offer fast data traffic more widely and at a lower cost.
Being able to offer combined mobile and fixed line corporate packages is seen as key to Vodafone's future growth plans in the UK, where slow growth in mobile phone subscriptions is making business customers a more important market.
Vodafone is expected to sell C&WW's 260,000 miles (418,430km) of undersea cables in a deal which could raise approximately £500m. Potential buyers including US rivals AT&T and Verizon.
Already, Vodafone has said some job losses would result from the takeover where the two firms' operations overlapped but has not given any details yet.