More people plan to delay their retirement, says Saga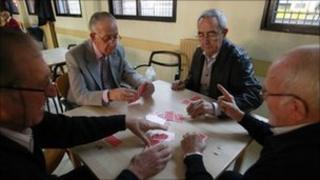 Many people in their fifties appear to be planning to work past the current state pension age (SPA) of 65, research suggests.
The insurance firm Saga says 27% of the over-50s planning their retirement expect to work past 65.
It based this finding on 427,000 retirement dates specified by people using its annuity service.
The number of people working beyond the SPA has almost doubled since 1993, to stand at 1.41 million in 2011.
That figure was revealed last week by the Office for National Statistics (ONS), which said the number of people working past SPA was rising faster than the general population.
Further rises
The state pension age is currently being equalised for men and women at age 65, to be achieved by November 2018.
It will then go up to 66 for both men and women by October 2020.
The government is planning to raise the SPA further to 67 by 2028, and then to keep on raising it line with any further increases in life expectancy.
Saga said this already appeared to be influencing the thinking of many of the prospective retirees who had contacted it.
"In 2012, the average retirement age will be 63 years, 130 days, which is 286 days later than in 2010 (62 years, 277 days)," the insurer said.
"By 2025, people expect to work an extra 2 years and 186 days longer than today [at 65 years, 316 days]."
Saga said the trend was due to a combination of financial necessity and the desire to keep on doing something enjoyable.
Separately, there has been a rise in the number of older people falling behind with their mortgages, and asking the debt charity Consumer Credit Counselling Service (CCCS) for advice.
It said the number of over 60s contacting it with this problem had jumped by 44% in the past three years.
CCCS said the clients in question were typically six-and-a-half months in arrears with their mortgage payments last year.