Vincent Tchenguiz no longer a fraud suspect, says SFO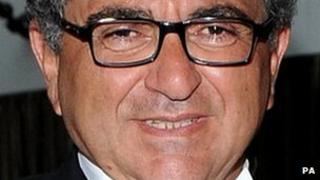 The Serious Fraud Office has told property tycoon Vincent Tchenguiz that he is no longer under investigation and that his bail will be cancelled.
He was arrested last year in a raid on his London office as part of an SFO inquiry into the collapse of Iceland's Kaupthing bank.
But the SFO came under severe criticism over the case, with a senior judge accusing it of "sheer incompetence".
Mr Tchenguiz said the SFO's decision was a "huge relief".
"This shadow has now been lifted and I can get on with rebuilding my life and my business interests," he said.
"The damage, however, has still to be accounted for."
Last month, Mr Tchenguiz challenged the lawfulness of the SFO's decisions at a judicial review hearing, accusing the organisation of "institutional failure".
Lord Goldsmith QC, representing Mr Tchenguiz, told judges Sir John Thomas and Mr Justice Silber last month that the SFO made "false" and "misconceived" allegations.
At the start of the judicial review, the new SFO director David Green said he was reconsidering the evidence.
'Damaged reputation'
Mr Tchenguiz was arrested by the City of London police in March 2011 during a dawn raid on his and his brother Robert's homes and offices.
Vincent Tchenguiz was held for 14 hours and released on bail later the same day.
He said on Monday: "I have consistently explained to the SFO that they had got it completely wrong - but, as their investigation collapsed around their ears, they stubbornly maintained that they regarded me as a suspect.
"The damage to my reputation and the business has been massive."
In response to the findings of the Judicial Review, the SFO has conceded that it made errors in bringing a case against Vincent Tchenguiz.
But, the SFO insists the investigation into his younger brother continues. "There is no change to the status of Mr Robert Tchenguiz," it said in its statement.