Popular trainer brands lose out to fakes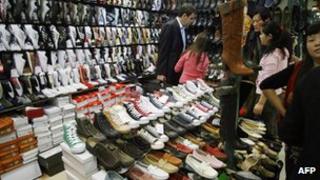 Copies of popular brands of clothes and shoes dominate the worldwide counterfeit trade, which had an estimated value of $600bn (£386bn) in 2010, according to the US Immigration and Customs Enforcement Agency.
It is a persistent problem.
"As soon as one manufacturer [of fake goods] is closed down, another starts up almost immediately," says John McCrohan, trading standards service manager at the London borough of Tower Hamlets.
"The scale of operations has got much bigger because we live in a global market and have a very open economy," he says.
"Massive profit is what drives this illicit trade. You produce a cheap product, market it with a well-known brand name and sell it close to the real price."
Fighting back
In 2011, more than 12 million counterfeit Adidas products were seized worldwide, according to company representative Katja Schreiber.
"Counterfeit products cause us a loss in sales - but, more importantly, consumers duped into buying a counterfeit will be disappointed with the poor quality, and this damages our hard-earned reputation for excellence and quality," she says.
As popular consumer brands with technological and design innovation as defining characteristics, Adidas products are frequent targets for counterfeiting and imitation.
"To reduce the loss of sales and the potential damage to brand reputation resulting from counterfeit products, the Adidas Group makes use of extensive legal protection and works closely with law enforcement authorities, investigators and outside counsel," Ms Schreiber says.
"Although we have stepped up measures such as product security labelling with our authorised suppliers, the development of these measures remains a key priority on an ongoing basis," she adds.
Many of these counterfeit products are manufactured in China and tracking down the organisers of such illicit trade is notoriously difficult.
But the BBC managed to contact US-educated Sean in Shanghai, who sells counterfeit Nike trainers.
"Most of the business that we do is online," he says. "And business grows by word of mouth."
Sean ships out more than 500 pairs of shoes a week.
"The price of a pair of Nike can be over $150 [£96] - shoes which can be made for less than $13 in China, and I retail them at around $60," he says.
But he denies he makes a huge profit himself, saying his shipping costs are expensive.
The Chinese authorities have taken steps to clamp down on counterfeit activities since joining the World Trade Organization in 2001, but Sean is not worried.
"I am very underground and nobody knows my location", he says.
Urban appeal
Company representative Ryan Greenwood says: "Nike aggressively protects its brand and actively engages with law enforcement agencies globally to stop counterfeit product reaching consumers.
"Counterfeits are likely to be of inferior quality, and Nike is obviously unable to stand behind a counterfeiter's product."
Vada Manager, a former spokesman on global issues, at Nike's headquarters in Oregon, says: "It is not only unfair to authorised dealers who sell our product through their High Street stores, it is also unfair to the consumer because of all the technology and innovation placed into Nike footwear and Nike products."
But the quality of the product is not important to some of the young people the BBC spoke to on an east London housing estate.
They all admit that if they could buy their trainers cheaper, they would.
One young man says: "Nobody touches them to see how well they are made." Another says: "As long as they look right, it doesn't matter."
Nike is covered by China's "quality-brand protection", under the auspices of the Chinese government, and they work together to root out individuals and factories making and distributing fakes.
Mr Manager says: "There have been a number of high-profile arrests and we have a number of investigators throughout China and throughout the world who get leads and information about such practices."
However, it has been known that after premises have been closed down by the authorities, the owners use the same staff, the same machinery and the same suppliers, to continue making their products illegally.
"You will never be 100% effective, but if you can be effective enough to protect your retailers and consumers it helps to mitigate the problem," Mr Manager says.
"These factories are fly-by-night," he adds. "They get shut down - but, just like dandelions in your garden, they pop up in other locations relatively quickly."