How the cloud helps firms cope with ups and downs of IT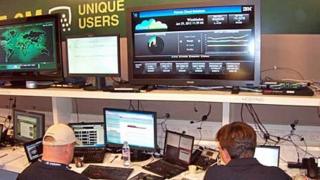 Imagine running a business where most of your customers arrive during two weeks of the year.
Millions of them turn up demanding a high-quality service, with different features from the previous year.
Welcome to the world of Doug Clark, the IBM executive responsible for the infrastructure that runs the website of the Wimbledon tennis championships.
Outside Wimbledon fortnight the website wimbledon.com gets fewer than 500,000 page views on average per day.
During last year's championships, daily page views peaked at 50 million.
"Wimbledon is an extreme example of spikiness of demand. There are very long periods of dormancy then a frantic period when the tournament is live," says Doug.
Seasonal surge
Spikiness is a common problem in the information technology world.
It refers to the surges in demand for computing power and information storage.
Retailers suffer from spikiness. They expect their website to be swamped in the run-up to Christmas.
Internet travel firms endure a similar problem, experiencing a surge in demand in January as people line up their summer holidays.
So how can businesses ensure that their website won't fall over during busy periods?
Cloud-computing firms say they have the answer.
Instead of buying huge amounts of computing power and storage that may be unused for most of the year, companies can get what they need in a more flexible way.
So for Wimbledon, IBM has allotted enough computing resources to cope with the surge during the tournament.
And those machines are not in cramped underground facilities at the All England Lawn Tennis Club.
There are in the US. To be precise, in Raleigh, North Carolina.
So it is convenient for the Wimbledon tournament, but it also works well for IBM.
It does not have those machines sitting around in Raleigh waiting for the next Wimbledon to come around.
Instead, once Wimbledon is over that computing power can be used for other major tennis tournaments, the US Open golf tournament and one of the big events of the US theatre industry, the Tony Awards.
Time-consuming
Cloud computing has another useful feature. Instead of being locked into long contracts, firms can buy their IT over much shorter time frames. It can even be metered.
This is extremely useful for companies that are launching one-off projects or perhaps start-up firms that are not sure how successful they are going to be.
Extra capacity can be bought online and paid for as needed.
Zoopla is a UK property website which allows users to search for homes.
It has grown fast since launching in 2008 - and so have its needs for computing.
Simon Kain, its co-founder and chief technology officer, said: "We learnt from previous experience that even with a decent-sized infrastructure team, maintaining your own hardware platform is a time-sink and to do so within a tight budget can result in big constraints."
Zoopla uses Amazon Web Services (AWS), which launched in 2006 and is the biggest player in cloud computing.
Amazon was already using large amounts of computing power and storage to run its own retail business. Andy Jassy, the mastermind behind its launch, thought that with some investment, Amazon could start offering computer services to other firms.
"Amazon was suited to this business because Amazon loves high-volume, low-margin businesses - but most technology firms don't," he said.
He expects AWS to eventually match in size the retail business, which has sales of $40bn a year.
But despite all that flexibility, spending on cloud computing has been slow to take off.
Fear, uncertainty, doubt
Analysts at Tier1 Research estimate that just 2% of total spending on information technology is on cloud services.
Daniel Beazer, a hosting and cloud analyst at Tier1 Research, said: "Most companies have been around for a lot longer than the internet and have systems that are decades old."
"Mostly what they have works, just about, so why bother shifting it? The savings from virtualisation and the cloud aren't currently big enough to justify it," he said.
Amazon accepts that not all companies are ready to shift to their technology needs to the cloud.
It also says some of the traditional technology companies are stirring-up concerns over moving their computing needs.
"There's a lot of FUD [fear, uncertainty, doubt]," said Mr Jassy.
"But in the fullness of time, not sure if it's 5 years, 10 years, 20 years, I believe few companies will have their own datacenters and those that do, will have much smaller footprints," he said.