Swype keyboard updated by Nuance adding voice recognition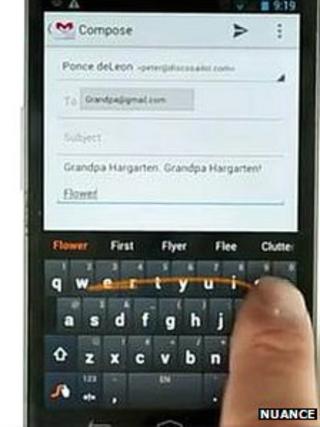 The "next generation" of Swype - software that makes it easier to use a keyboard on a touchscreen device - has been unveiled by its owner Nuance.
The update builds in the firm's XT9 predictive text technology, allowing devices to complete words or phrases based on owners' previous usage.
It also adds the US firm's Dragon speech recognition functions, letting users dictate text rather than type it.
Nuance bought Swype from its inventors in October for $102.5m (£65m).
Its ability to let users drag their fingers from one letter to another, rather than typing them, had already helped it emerge as a popular alternative to standard built-in smartphone keyboards on Android phones.
Nuance said that manufacturers had already shipped more than 200 million devices with Swype preinstalled.
Asian appeal
The ability to dictate, rather than type, words may help the product gain more traction in parts of Asia where some languages with non-Roman alphabets have thousands of characters
The revamp also introduces the ability to interpret "handwriting", allowing users to write messages by drawing characters in Chinese and Korean alphabets
Alternative products include Swiftkey, Slideit, Thumb Keyboard and Smart Keyboard, but one analyst said combining the original feature set with Nuance's other technologies might give it an edge.
"It's an opportunity for Nuance to capitalise on the massive growth we're seeing in the handheld market - and of course Swype also works on Android tablets which also have great potential," said Chris Green, principal technology analyst at the consultants Davies Murphy Group Europe.
"As Swype moves out of beta they will look to licence technology to more handset makers, generating considerable royalties.
"A lot of vendors think that voice recognition will be the next big battleground among both software and handset makers - so by integrating the function into Swype at this stage, the firm gives itself an advantage."